WUZZHAM?!?!
(trademark)
Knoxville, TN
Company Profile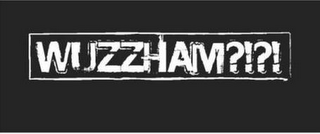 Status:Inactive
Registration:Feb 7, 2011
State ID:85235869
Status:606 - Abandoned - no statement of use filed
Status date:Oct 8, 2012
Illustration:Drawing or design which also includes word(s)/ letter(s)/number(s)
Attorney:Andrew S. Neely
LUEDEKA, NEELY & GRAHAM, PC
PO Box 1871, Knoxville, TN 37901
Employee:Brian J Pino
Goods & Services:Color is not claimed as a feature of the mark., The mark consists of a rectangle with the letters and characters "wuzzham?!?!" inside the rectangle., Clothing, namely, shirts and hats, Wuss ham?!?!
Owner:Allegiant Athletic Agency, Llc, Suite 201 35 Market Square, Knoxville, TN 37902 >
No reviews for WUZZHAM?!?! yet.