CC CABINET CURES
(trademark)
Sherwood, OR
Company Profile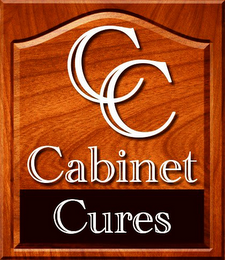 Registration:Jan 4, 2010
State ID:77980808
Reg. number:3933699
Status:700 - Registered
Status date:Mar 22, 2011
Illustration:Drawing or design which also includes word(s)/ letter(s)/number(s)
Attorney:Michelle E. Lentzner
Buckley LeChevallier PC
3 Centerpointe Drive Suite 250, Lake Oswego, OR 97035 >
Employee:Marcie R Frum Milone
Goods & Services:The color(s) wood grain reddish brown, black and white is/are claimed as a feature of the mark., "cabinet", The mark consists of wood grain reddish brown cabinet door with interlocking capital "c"'s in the color white above with the stylized wording "cabinet cures" in the color white. the wording "cures" is superimposed over a black rectangle., Wood stains and paint for use in cabinet refinishing and refacing, Cabinet repair and installation services, namely, refinishing, refacing, resurfacing ...
Owner:Cabinet Cures Licensing, Llc, 20746 Sw Olds Place, Sherwood, OR 97140 >
No reviews for CC CABINET CURES yet.