9112 W. Lisbon Avenue Apt. 20, Milwaukee, WI 53222
Industry:Real Estate Agent/Manager
Registration:Dec 26, 2012
State ID:R057967
Business type:Domestic Limited Liability Company
Member:Rashaan Cherry (Principal)
808 Jack St, Rothschild, WI 54474
Registration:Oct 4, 2001
State ID:R037550
Business type:Domestic Limited Liability Company
100 E Crabtree Cir, Wausau, WI 54401
Registration:Jan 2, 1997
State ID:R031967
Business type:Domestic Limited Liability Partnership
12670 County Rd P, Bagley, WI 53801
Registration:Nov 29, 2011
State ID:R055749
Business type:Domestic Business
N7722 Lake Shore Dr, Rib Lake, WI 54470
Industry:Taxi Service
Phone:(715) 427-3165
1675 Highland Ave, Madison, WI 53792
Industry:Health/Allied Services
N7722 Lake Shore Dr, Rib Lake, WI 54470
Industry:Bus Charter Service-Nonlocal
Members (2):Randy Cristison (Owner)
Randy Christianson (Owner, inactive)
W1951 Washington Rd, Oconomowoc, WI
Industry:Publishing
Site:RmcPublishingCo.com
Description:PRINT PUBLICATIONS
"Hunters Choices; Choices you can make to improve your big game hunting success"
AUDIO PUBLICATIONS
DIGITAL ADVERTISING
Meetup, Craigslist, videos, slideshows...
Specialties:Web video commercials, Web site creation, Filming and Editing, Book Publishing (Print and Audio)
Founded:1992
Company size:1-10 employees
6220 Nesbitt Road, Madison, WI 53719
Doing business as:RMD CADILLAC, LLC
Registration:Aug 13, 2002
State ID:R038735
Business type:Domestic Limited Liability Company
Registration:Oct 11, 2014
State ID:R061747
Business type:Domestic Limited Liability Company
RMD
(trademark)
Two Rivers, WI
Registration:Jul 13, 2006
State ID:78929098
Reg. number:3272298
Status:702 - SECTION 8 & 15-ACCEPTED AND ACKNOWLEDGED
Status date:Sep 3, 2013
Illustration:3000
Attorney:Jeffrey S. Sokol
Employee:Stephanie Marie Ali
Goods & Services:Color is not claimed as a feature of the mark., Machine tools for bending, notching, cutting, positioning and forming materials such as tubes, pipes, conduit, rods, bars, beams and similar elongated...
Owner:Rusch Machine & Design, Inc, 1911 Columbus Street, Two Rivers, WI 54241
1020 Kabel Ave, Rhinelander, WI 54501
Status:Inactive
Registration:Dec 26, 1968
State ID:5B10891
Business type:Service Corporation
4901 North Lake Drive, Milwaukee, WI 53217
Status:Inactive
Industry:Nonclassifiable Establishments
Registration:Apr 27, 2012
State ID:R056669
Business type:Domestic Limited Liability Company
Member:John Rogers (Principal)
1210 N Bay Trl, Clearwater Lk, WI 54521
Status:Inactive
Industry:Business Services at Non-Commercial Site, Nonclassifiable Establishments
Member:Kevin Dornberger (Principal, inactive)
8333 Greenway Blvd, Madison, WI 53562
Status:Inactive
Member:Arkansas Lodging Properties, Llc (Governing Person)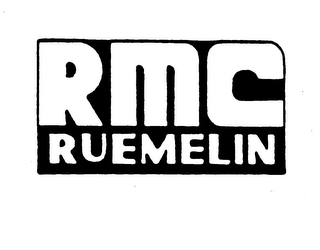 Status:Inactive
Registration:Jan 6, 1984
State ID:73459852
Reg. number:1313169
Status:710 - Cancelled - section 8
Status date:Oct 15, 2005
Illustration:Drawing or design which also includes word(s)/ letter(s)/number(s)
Attorney:Glenn A. Buse
Employee:Steven R Fine
Goods & Services:Equipment for use in abrasive blast cleaning-namely, blast cleaning cabinets, blast cleaning rooms, abrasive handling units, inspection door curtains, blast carving curtains, blast nozzles, and blast ...
Owner:Ruemelin Manufacturing Company, Inc, 3860 N. Palmer St., Milwaukee, WI 53212
Correspondent:Glenn A. Buse'
MICHAEL, BESE & FRIEDRICH
Suite 3300, Milwaukee, WI 53202
RMD
(trademark)
Manitowoc, WI
Status:Inactive
Registration:Jan 8, 2003
State ID:78201169
Status:606 - Abandoned - no statement of use filed
Status date:May 19, 2004
Illustration:Typeset: Word(s)/letter(s)/number(s)
Attorney:Baileigh Industrial, Inc
BAILEIGH INDUSTRIAL, INC
708 Chicago St., Manitowoc, WI 54221
Employee:Marc J Leipzig
Goods & Services:Metal fabricating equipment specifically tubing and pipe bending machinery, tubing and pipe notching machines, welding positioners
Owner:Baileigh Industrial, Inc, 708 Chicago St., Manitowoc, WI 54221
Status:Inactive
Registration:Oct 13, 1981
State ID:73332219
Status:602 - Abandoned-failure to respond or late response
Status date:Feb 23, 1984
Illustration:Drawing or design which also includes word(s)/ letter(s)/number(s)
Attorney:Glenn A. Buse'
MICHAEL, BEST & FRIEDRICH
Milwaukee, Milwaukee, WI 53202
Goods & Services:Abrasive blast equipment, dust collectors and fume exhausters
Owner:Ruemelin Manufacturing Company, Inc, 3860 N. Palmer St., Milwaukee, WI 53212