111 S Lander St, Seattle, WA 98134
Industry:Business Association
Site:d2fcovers.com
Phone:(206) 652-0824
Member:Thomas Palmer (Principal)
Categories:Manufacturing Production
1430 242Nd Pl Se, Redmond, WA 98075
Industry:Computer Related Services Custom Computer Programing
Phone:(425) 445-5638
Members (2):Joseph Thomas (Member)
Karl Uselman (Member)
676 Fairview Rd, Ellensburg, WA 98926
Industry:Nonclassifiable Establishments
Member:Mark Manning (Principal)
22223 Se 20Th St, Redmond, WA 98075
Industry:Business Services at Non-Commercial Site, Nonclassifiable Establishments
Member:Don Vu (Principal)
10336 Wildwood Ln Se, Olympia, WA 98513
Industry:Nonclassifiable Establishments
Kirkland, WA · Wenatchee, WA
Industry:Ret Draperies/Upholstery, Musical Instrument Repair
Doing business as:D2F Covers Inc
Site:d2fcovers.com
Phone:(425) 802-7187, (206) 652-0824
Addresses:8104 Ne 121St St, Kirkland, WA 98034
311 Eastridge Dr, Wenatchee, WA 98802
Members (2):Tom Palmer (Principal)
Thomas Palmer (President)
SIC:9999 - Nonclassifiable Establishments
Company size:1
1910 Bickford Ave, Snohomish, WA 98290
Industry:Business Services
PO Box 3325, Spokane, WA 99220
Industry:Nonclassifiable Establishments
Registration:Oct 3, 2012
State ID:85744690
Reg. number:4550004
Status:700 - Registered
Status date:Jun 17, 2014
Illustration:Drawing or design which also includes word(s)/ letter(s)/number(s)
Attorney:D2B, Inc
D2B, INC
2032 Newhaven Loop, Richland, WA 99352
Employee:Gretta Yao
Goods & Services:Color is not claimed as a feature of the mark., "inc.", The mark consists of "d2b inc." with the "2" in a superscript format, enclosed in a educational type film countdown target., Engineering...
Owner:D2B, Inc, 2032 Newhaven Loop, Richland, WA 99352
D2F
(trademark)
Kirkland, WA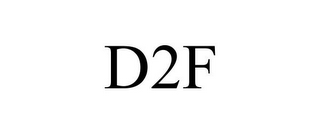 Registration:Dec 1, 2011
State ID:85485363
Reg. number:4274332
Status:700 - Registered
Status date:Jan 15, 2013
Illustration:Drawing with word(s)/letter(s)/number(s) in Block form
Attorney:E. Russell Tarleton
SEED IP LAW GROUP PLLC
701 5Th Ave Ste 5400, Seattle, WA 98104
Employee:Linda M Lavache
Goods & Services:Protective covers specially adapted for musical instrument amplifiers, audio amplifiers, public address speakers, and audio speakers, Protective covers specially adapted for musical instruments, D...
Owner:D2F Covers, Inc, 8104 N.e. 121St Street, Kirkland, WA 98034
22 Cottontail Ridge Rd, White Salmon, WA 98672
Status:Inactive
Industry:Civil Engineering, Surveying Services
Phone:(509) 493-3376
Member:Dennis Peoples (Owner, President, inactive)
1038 Water St, Beckett Point, WA 98368
Status:Inactive
Industry:Eating Place
Member:Paul D. Davis (President, inactive)
Azwell, WA · Cocoa Beach, FL
Status:Inactive
Inactive reason:Lc Voluntary Dissolution
Registration:Nov 10, 2011
Inactive since:Jun 11, 2013
Addresses:192 Brenchley Dr, Azwell, WA 98846
2 C N, Cocoa Beach, FL 32931
29 E Route 004, Cocoa Beach, FL 32931
State ID:L11000129781
Business type:Florida Limited Liability Company
Member:Dorkas (Managing Member, inactive)
Agent:Jan Doughty Ra, Llc
3000 N Atlantic Ave, Cocoa Beach, FL 32931 (Physical)
EIN:N/A
11255 Kirkland Way, Kirkland, WA 98033
Status:Inactive
Industry:Nonclassifiable Establishments
Status:Inactive
Registration:Apr 26, 1994
Inactive since:Aug 3, 2009
State ID:601541719
Business type:Profit
Expiration:Perpetual
Member:Deanna Thu Nguyen (President), 12001 1St Ave S, Seattle, WA 98168
Agent:Deanna Nguyen
12001 1St Ave S, Seattle, WA 98168 (Physical)
Status:Inactive
Registration:Jul 29, 1992
Inactive since:Aug 30, 2013
State ID:601403981
Business type:Profit
Expiration:Perpetual
Members (2):Jerry W Cox (President,Chairman), 3965 W Harbor Pt Dr, Meridian, ID 83646
Donna K Cox (Vice President,Secretary,Treasurer), 3965 W Harbor Pt Dr, Meridian, ID 83646
Agent:Hyrum Cox
1490 Fair St, Clarkston, WA 99403 (Physical)
Status:Inactive
Registration:Sep 30, 1988
Inactive since:Sep 30, 2015
State ID:601112719
Business type:Profit
Expiration:Perpetual
Members (2):Dennis Peoples (President,Chairman ,Director), PO Box 1127, Northport, WA 99157
Susanne Peoples (Secretary,Treasurer), PO Box 1127, Northport, WA 99157
Agent:Dennis R Peoples
3561 Northport-Flatcreek Rd, Kettle Falls, WA 99141 (Physical)
PO Box 1127, Northport, WA 99157 (Physical)