Site:nationalhomecomfort.com
Phone:(416) 743-0027
Categories:Fireplace Equipment - Retail
Registration:Jan 1, 1996
Site:natech.ca
Phone:(604) 730-9300, (604) 575-1182 (Fax)
Member:Bob Cryer (Owner)
Categories:Heating Equipment & Systems Cleaning & Repair, Duct Cleaning
Industry:Aviation & Aerospace
Site:nationalairlines.aero
Industry:Graphic Design
Site:nascc.com
Industry:Airlines/aviation
Site:nationalairlinepolicy.com
Industry:Broadcast Media
Site:xxxxxxxx.com
Description:...
Company size:1-10 employees
Industry:Airlines/aviation
Site:nac.com.pg
Description:Company History
The National Airports Corporation is a State aviation enterprise established under the Civil Aviation Act 2000 as amended.
The Company evolved from the airport division...
Founded:2006
Company size:201-500 employees
Industry:Machinery
Site:navco.us
Description:The National Air Vibrator Company, NAVCO, was founded in 1955 as a manufacturer of pneumatic piston vibrators used to facilitate flow of bulk materials out of hoppers, bins, bunkers and bulk material ...
Specialties:Applied vibration flow solutions, Industrial pneumatic vibrators, Industrial vibratory equipment
Founded:1955
Company size:11-50 employees
Site:nationalairparts.com

103 Marseilles Cresent, Briardene, Durban, Kwazulu Natal, South Africa
Industry:Business Supplies And Equipment
Site:hitcheez.com
Description:National Airconditioning (Pty) Ltd supplies, installs, services & maintains all types and sizes of air-conditioning equipment, countrywide, throughout South Africa.
We aim to provide value for...
Specialties:Servicing, Installing, Maintaining, Repairing
Founded:2002
Company size:51-200 employees
Industry:Aviation & Aerospace
Site:natca.org
Description:Representing the nation's dedicated aviation safety professionals who work to make the National Airspace System the world's safest and most efficient. NATCA represents 20,000 aviation safety...
Founded:1987
Company size:51-200 employees
Via Dell'Aeroporto Di Fiumicino, Fiumicino, Lazio, Italy
Industry:Airlines/aviation
Description:NATIONAL AIRPORT SERVICES SRL is an Airlines/Aviation company located in Via dell'Aeroporto di Fiumicino, Fiumicino, Lazio, Italy.
Industry:Airlines/aviation
Site:airlinecouncil.ca
Description:The National Airlines Council of Canada (NACC) is the trade association representing Canada's largest national and international passenger air carriers: Air Canada, Air Transat, Jazz Aviation LP and...
Company size:1-10 employees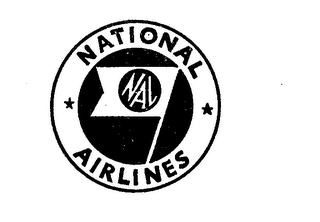 Status:Inactive
Registration:Oct 16, 1947
State ID:71538030
Reg. number:0509458
Status:900 - expired
Status date:Apr 2, 1992
Illustration:Drawing or design which also includes word(s)/ letter(s)/number(s)
Goods & Services:Applicant does not make any claim to theword "airlines" apart from the mark.
Owner:National Airlines, Inc