Industry:Management Consulting
Site:natrik.com
Status:Inactive
Member:Qt Petroleum On Demand (inactive)
Industry:Hospitality
Site:etenenpassie.nl
Description:Natrik's Cuisine is opgericht in 2012 vanuit een passie voor eten. De insteek was om mensen te laten proeven dat er met liefde en passie gekookt is met pure ingrediënten.
Inmiddels verzorgen we...
Specialties:Catering, Bereid met liefde en passie, Lunch, Diner, Borrelhapjes voor particulieren en bedrijven
Founded:2013
Company size:Myself Only
Industry:Marketing And Advertising
Site:natrium.se
Description:Natrium är en kreativ och strategisk partner med samlad kompetens och erfarenhet inom kommunikationsstrategi, design, programmering och sociala medier.
Vi utvecklar koncept i form av...
Founded:2013
Company size:1-10 employees
Industry:Sporting Goods
Site:natrilgear.com
Description:Natril Gear started in 2011 with the mission of improving and enlivening the world (yes, the whole world) by making great products, encouraging people to try new things, and helping others live their ...
Founded:2011
Company size:1-10 employees
5 Hedingham Road Chafford Hundred, Essex, United Kingdom
Industry:Medical Devices
Description:NATRINZA CERAMICS LTD is a Medical Device company located in 5 HEDINGHAM ROAD CHAFFORD HUNDRED, ESSEX, United Kingdom.

Industry:Automotive
Site:natrip.in
Description:National Automotive Testing and R&D Infrastructure Project (NATRiP), the largest and one of the most significant initiatives in Automotive sector so far, represents a unique joining of hands between...
Company size:11-50 employees

33.832085,35.905766, Star Gate/ Chedid Bldg., Zahle, Bekaa, Lebanon
Industry:Import And Export
Site:natrimex.com
Description:NATRIMEX LTD .
National Trading for Import and Export .
Estblished Jan 2010
our main activties is import and export for the Brand CLOVER and packing .
Main market is the largest...
Specialties:Lebanese Red Wine, cotton balls, cotton rolls, cotton buds, cotton make up, ...
Founded:2010
Company size:11-50 employees
Industry:Security And Investigations
Site:natrium.com.ar
Description:Natrium es una empresa dedicada a la confección de Elementos Protección Personal para fuentes radiantes de calor, aproximación a fuego, rescate de incendio y salpicadura de metal fundido. Con un...
Company size:1-10 employees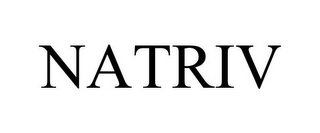 Status:Inactive
Registration:Jan 12, 2009
State ID:77647617
Status:606 - abandoned - no statement of use filed
Status date:Aug 27, 2012
Illustration:4000
Employee:George M Lorenzo
Goods & Services:Pharmaceutical preparations and substances for the treatment of infectious diseases, blood disorders, pain, inflammation, sepsis, alopecia, obesity and cognitive disorders; pharmaceutical...
Owner:Glaxo Group Limited