Phone:(416) 863-0633
Categories:Restaurants
Site:MrTaxes.ca
Phone:(604) 678-2937, (604) 514-7542 (Fax)
Member:Robert Stone
Categories:Accountants-Certified General
Industry:Packaging And Containers
Site:mrtaper.com
Description:"When you ask creative people how they did something, they feel a little guilty because they didn't really do it, they just saw something. It seemed obvious to them after a while. That's because they...
Specialties:packaging, innovation
Founded:2012
Company size:1-10 employees
Industry:Food Production
Site:mrtarts.com
Description:Baking passion into our products, our vision is to supply customers with only the highest quality of ingredients. Never cutting corners but providing freshness, consistency and the essence of home in ...
Specialties:Sweet Tarts, Savoury Tarts, Spicy Tarts
Founded:2014
Company size:1-10 employees
Industry:Translation And Localization
Site:mrtailor.com.au
Industry:Restaurants
Site:mr-tai.com
Description:A small Asian dine-in or take-out restaurant in Lexington, MN. Founded in 2009 by the real Mr. Tai, Mr. Tai's restaurant has been owned and operated by Tim Erickson since October of 2010. Mr. Tai's...
Founded:2010
Company size:1-10 employees
Industry:Sporting Goods
Site:MrTargetOnline.com
Description:MR TARGET offers some of the finest reactive targets on the market.
Our targets are used on Private and Local Ranges by Combat and Tactical Trainers, FFL Holders for Demos, Professional...
Specialties:Armored Steel Reactive Shooting Targets, Zombie Hammer, Exploding Targets, 3D Bleeding Targets, Target Shooting, ...
Founded:2012
Company size:1-10 employees
Industry:Accounting
Site:mrtaxrefund.com.au
Description:Mr Tax Refund is a registered tax agent that offers clients over-the-phone tax preparation and lodgement services.
Pop Up Tax Shop is one of Australia's fastest growing tax agent retailers....
Specialties:Tax Returns, Accounting
Founded:2011
Company size:51-200 employees

16 Leicester Road, Blaby, Leicestershire, United Kingdom
Industry:Accounting
Site:mrtax.co.uk
Description:I worked for HMR&C for 25 years and left in 1984 as District Inspector of Leicester 3 District.
I specialise in trying to reduce tax bills and in dealing with all sizes and types of problems...
Company size:1-10 employees
Industry:Research
Site:mrtappy.com
Description:Mr Tappy is a toolkit for filming user research with mobile devices from the user's point of view.
It's designed for usability professionals and product developers wishing to understand more...
Specialties:User Experience research, Usability testing, Mobile device testing
Founded:2012
Company size:Myself Only
Annastr. 46, Iserlohn, Warstein, Germany
Industry:Legal Services
Site:mrtaco.de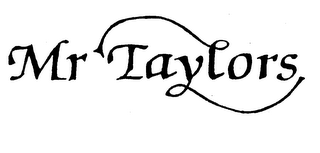 Status:Inactive
Registration:Aug 13, 1996
State ID:75149840
Reg. number:2069984
Status:710 - cancelled - section 8
Status date:Mar 15, 2008
Illustration:Drawing or design which also includes word(s)/ letter(s)/number(s)
Attorney:Ronald E. Shapiro
VORYS SATER, SEYMOUR AND PEASE LLP
1828 L Street N.w. 11Th Floor, Washington, DC 20036
Employee:Steven R Fine
Goods & Services:Shaving soap, shaving cream, preshave cream, aftershave, cologne, deodorant, hand soap, and talcum powder
Owner:Taylor Of Old Bond Street Limited