Industry:Consumer Services
Site:mrsmiths.com.au
Status:Inactive
Registration:May 13, 1965
State ID:72218821
Reg. number:0822016
Status:900 - expired
Status date:Apr 10, 1987
Illustration:Typeset: Word(s)/letter(s)/number(s)
Goods & Services:Without waiver of its common law rights, applicant makes no claim to the word "snax" apart from the mark as shown., Peanuts, potato chips, and pretzels, Snack
Owner:James E. Walker, Jr., Doing Business Asmr. Snax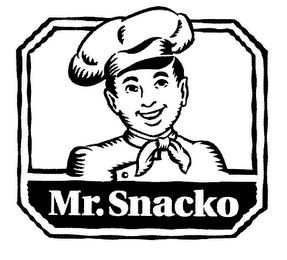 Status:Inactive
Registration:Jun 26, 2002
State ID:78139010
Reg. number:2793072
Status:710 - cancelled - section 8
Status date:Jul 17, 2010
Illustration:Drawing or design which also includes word(s)/ letter(s)/number(s)
Attorney:Simon Lemay
Lavery, de Billy
Employee:Ingrid C Eulin
Goods & Services:Snack cakes
Owners (2):Rondeau Cookies Limited / Biscuits Rondeau Limitee
Saputo Groupe Boulangerie Inc. / Saputobakery Group Inc
14 Calle De Diego E, Urb Santa Maria, PR 00680
Status:Inactive
Industry:Eating Places, Nonclassifiable Establishments
Industry:Renewables & Environment
Site:mrsolar.com
Industry:Information Technology And Services
Site:mrsoftware.es
Description:En MR Software ofrecemos algo más que un servicio, sino que les ofrecemos innovar, para aquellas empresas que quieran ser más ágiles y eficaces en su proceso diario, por eso, futuro cliente y a los...
Specialties:Mantenimiento informático, Desarrollo web, Aplicaciones a medida, Instalación y configuración de redes telemáticas, Microelectrónica
Founded:2012
Company size:1-10 employees
Industry:Tobacco
Site:mrsnuff.com
Doing business as:Mr Smiths Cleaning Services Inc., Mr. Smith's Window Cleaning Services
Registration:Jan 1, 1976
Phone:(604) 591-9550, (604) 576-1900 (Fax)
Member:Mike Smith (President)
Categories:Window Cleaning, Cleaning Systems-Pressure, Chemical, Etc.
Reitbahnstraße 80, Chemnitz, Saxony, Germany
Industry:Marketing And Advertising
Site:mr-snow.de
6551 Gateway Blvd Nw, Edmonton, Ab, Canada
Industry:Wine And Spirits
Site:mrsnack.ca
Description:Mr Snack Inc is a Wine and Spirits company located in 6551 Gateway Blvd Nw, Edmonton, AB, Canada.
Phone:(780) 414-0505
Categories:Grocers - Retail
Kyyiv, Kyiv City, Ukraine
Industry:Accounting
Site:mrsnack.ca
Description:Mr. Snack is an Accounting company located in Kyyiv, Kyiv city, Ukraine.
251 Ave Jose De Diego, Repto San Jose, PR 00612
Industry:Eating Places, Nonclassifiable Establishments
Mr Smiths Nightclub Limited Wilson Patten Street, Warrington, United Kingdom
Status:Inactive
Registration:Mar 4, 1963
State ID:72163893
Reg. number:0774019
Status:900 - expired
Status date:Oct 28, 1984
Illustration:Typeset: Word(s)/letter(s)/number(s)
Goods & Services:Dolls, Mister social security
Owner:Stuart, Inc