Phone:(403) 347-8708
Members (2):John Arragon
Anne Arragon
Categories:Pianos - Tuning & Repair, Piano & Organ Moving
15 Dinard Drive Giffnock, Glasgow, United Kingdom
Industry:Business Supplies And Equipment
Description:J PHILLIPS HR CONSULTING LIMITED is a Business Supplies and Equipment company located in 15 DINARD DRIVE GIFFNOCK, GLASGOW, United Kingdom.
Industry:Individual & Family Services
Site:povertylexicon.com
Description:Providing the tools for people to build economically sustainable communities where all can thrive. Experience working in many sectors of society including law enforcement, judicial system, social...
Specialties:Training and consulting to effectively address poverty
Founded:2000
Company size:1-10 employees
Status:Inactive
Doing business as:J Petersen MD PA
Karlweg 5, Klagenfurt, Austria
Site:pichlerluft.at
Industry:Photography
Site:jphotographers.co.uk
Description:J Photographers. Wedding photographers North East. Wedding photography north east. Offering a wide range of photography coverage for almost any special occasion.
Industry:Management Consulting
Site:jphineas.com
Description:J Phineas International Corp was established in 2001 and provides experienced executive management on a part-time basis enabling its clients to optimize operating results, prepare for and execute...
Specialties:strategic plann'g, budget'g & forecast'g, equity/debt fundrais'g, GAAP/IFRS acct'g, audit readiness, ...
Founded:2001
Company size:1-10 employees
Industry:Real Estate
Site:myjpmortgage.com
Description:Please check out website
Company size:1-10 employees
Doing business as:J Peterson Contracting-Cnsltng
Registration:Jan 1, 2008
Phone:(206) 306-4842
Categories:Contractors - General
Industry:Management Consulting
Site:AllignTeam.com
Description:ALLIGN has helped professionals and their businesses to improve for over 30 years. Our clients think and apply the principles of 'INside the Box' everyday - by inspiring, interacting and innovating...
Company size:11-50 employees
Industry:Photography
Site:jphotographyonline.com
Description:Jackie has been studying and practicing photography for over 15 years. She has shot for celebrities and her work has been published in the Santa Barbara magazine. The type of work Jackie provides is...
Specialties:Fine Art, Advertising, Architecture, Photo Retouching
Founded:2011
Company size:Myself Only
Industry:Information Technology And Services
Industry:Chemicals
Site:ajpharmtech.com
Description:A&J pharmtech offers premier R&D services for pharmaceutical & biotech companies from North America, Europe and Japan. Driven by its technical strength and expertise, A&J pharmtech has demonstrated a ...
Specialties:chemicals, Pharmaceutical intermediates
Founded:2008
Company size:201-500 employees
PO Box 71464, San Juan, PR 00936
Phone:(787) 793-7575
Member:Alberto Peirat (Comptroller)
Categories:Hospital & Medical Equipment & Supplies
Industry:Accounting/auditing/bookkeeping
Member:Payne Loloy (Partner)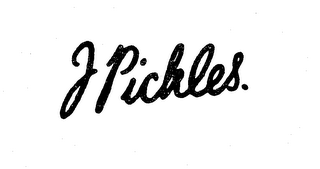 Status:Inactive
Registration:Oct 9, 1979
State ID:73234379
Reg. number:1176762
Status:710 - cancelled - section 8
Status date:Jun 8, 1988
Illustration:5R09
Goods & Services:Eau de cologne; softening preparation for toenails and suntan cream, Antiseptic deodorant cream; medicated pads and ointments for the treatment of warts; ointments for the relief of corns, calluses...
Owner:J. Pickles (Harrogate) Limited