Industry:Performing Arts
Site:jamaicastage.com
Industry:Transportation/trucking/railroad
Site:jutc.com
Description:In 1995, the Government took the decision to restructure the sector and invest in the required infrastructure to bring order to public transportation. Consequently, Metropolitan Management Transport...
Specialties:Public transportation, Charter service
Founded:1995
Company size:1001-5000 employees
Industry:Leisure, Travel & Tourism
Site:JamaicaTravelAddict.com
Church Street, Kingston, Saint Andrew Parish, Jamaica
Industry:Education Management
Site:jamaicateachers.org.jm
Description:Jamaica Teachers Association Ltd is an Education Management company located in Church Street, Kingston, Saint Andrew Parish, Jamaica.

2Nd Floor Guardian Life Building, 2 Graham Street, Ocho Rios, St. Ann, Jamaica
Industry:Internet
Site:jamaicatoday.com
Description:If you can't find the information you want, the entertainment you need or the services you deserve, that's because you're not at Jamaica Today. View it now! It's your portal to everything Jamaican...
Specialties:Online Portal for everything Jamaican
Founded:2014
Company size:1-10 employees

Constant Spring Road, Kingston, Jamaica
Industry:Management Consulting
Site:alliancejm.blogspot.com
Description:Strategic Alliance is group professionals who have pooled their resources, time, expertise, skills and experiences in creating an organization where self-employed Jamaicans can be united. Strategic...
Specialties:Retirement Planning, Empolyees' Welfare Tracking, Group Health Insurance, Skill Linking, Product Marketing, ...
Founded:2012
Company size:501-1000 employees

37 Second Street, Newport West, Kingston 13, Jamaica
Industry:Transportation/trucking/railroad
Site:shipdoortodoor.com
Description:Jamaica Trading Services was founded in 1988 out of a need to provide customers with a high quality suite of shipping services. Our suite of services comprise of Freight Forwarding, Customs Brokerage ...
Company size:11-50 employees
Vico San Pancrazio, Genoa, Liguria, Italy
Industry:Hospitality
Site:name.com
Description:JAMAICA TAVERN LIMITED is a Hospitality company located in Vico San Pancrazio, Genoa, Liguria, Italy.
Kingston, Saint Andrew Parish, Jamaica
Industry:Financial Services
Site:jamstockex.com
Description:The Jamaica Stock Exchange Limited is a Financial Services company located in Kingston, Saint Andrew Parish, Jamaica.
Status:Inactive
Registration:Nov 9, 1984
State ID:73508018
Status:604 - abandoned - after inter-partes decision
Status date:May 23, 1988
Illustration:Typeset: Word(s)/letter(s)/number(s)
Attorney:B. Parker Livingston
MASON, FENWICK & LAWRENCE
1730 Rhode Island Avenue N.w., Washington, DC 20036
Goods & Services:"jamaica", Carbonated soft drinks
Owner:Arthur Guinness And Sons Plc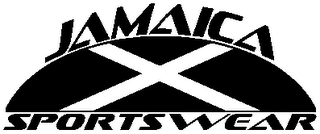 Status:Inactive
Registration:Aug 15, 2002
State ID:78154427
Status:602 - abandoned-failure to respond or late response
Status date:Mar 10, 2004
Illustration:Drawing or design which also includes word(s)/ letter(s)/number(s)
Employee:Tonja M Gaskins
Goods & Services:Jamaica sportswear falls under the umbrella of international sportswear (serial number 78131767), which is owned by croatia sportswear incorporated. international sportswear caters to americans with...
Owner:Croatia Sportswear Incorporated
Correspondent:Jeff Zendler
33 Kensingtion Blvd., Pleasant Ridge, MI 48069
Industry:Leisure, Travel & Tourism
Site:jamaicavolunteerexpeditions.com
Description:We are a Jamaican owned and operated volunteer placement organization. We offer a huge range of projects for international students, groups, individuals, tourists or adventures looking to volunteer...
Founded:2011
Company size:1-10 employees