Status:Inactive
Doing business as:Jay, Girl Friday LLC
Industry:Accounting
Site:jaygelbein.com
Status:Inactive
Doing business as:Jay Gin Enterprises, LLC
Industry:Individual & Family Services
Site:jayfostering.com
Description:Jay Fostering is an independent fostering agency, who have been established for over 9 years and provide "Outstanding outcomes" for children and young people (OFSTED 2013). We are based in Leicester...
Company size:11-50 employees
Industry:Media Production
Site:jayfostermedia.com
Description:My name is Jay Foster and I am a multimedia designer with a focus on web & graphic design. My goal is to provide you with a beautiful, cohesive and unique visual identity for digital and print domains.
Specialties:Web Design, Web Development, Graphic Design, Logo Design
Founded:2010
Company size:Myself Only
Industry:Food Production
Site:jaygeddes.com
Industry:Investment Management
Site:jaf-ltd.com
Description:Jay A. Fishman, Ltd. Investment Counsel an independent investment counseling firm registered with the Securities and Exchange Commission under the Investment Advisers Act of 1940. The Company was...
Founded:1970
Company size:1-10 employees
Industry:Consumer Goods
Company size:51-200 employees

Unit 18 Springvale Industrial Park, Bilston, Wolverhampton, West Midlands, United Kingdom
Industry:Automotive
Site:jaygee.co.uk
Description:Power steering specialists supplying quality reconditioned power steering racks, pumps and boxes. We hold large stocks of power steering racks and pumps, and deliver locally or across the UK next...
Specialties:Power steering specialists for car and commerical vehicles.
Founded:1979
Company size:1-10 employees
Industry:Human Resources
Site:JayFencing.com
Jalan 19/1, Petaling Jaya, Selangor, Malaysia
Industry:Retail

96 Carlaw Ave Unit 2, Toronto, Ontario, Canada
Industry:Entertainment
Site:whatis.ca
Description:Film and Television Production
In 1995, Jay Guerriere founded Jay Film & Video Productions for the purpose of providing
full cinematography, editing and colour grading services at self...
Specialties:Cinematography, Online/Offline Editing, Visual FX, Colour Grading (DaVinci)
Founded:1995
Company size:1-10 employees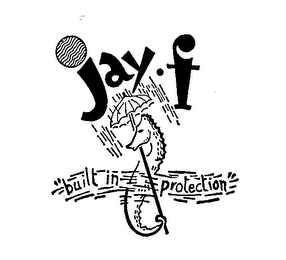 Status:Inactive
Registration:Mar 5, 1962
State ID:72139104
Reg. number:0771912
Status:900 - expired
Status date:Sep 23, 1984
Illustration:Drawing or design which also includes word(s)/ letter(s)/number(s)
Goods & Services:Rainwear
Owner:Jay-F Rainwear Co., Inc