Industry:Automotive
Site:jawaindustries.com
Description:Jawa International Industries Limited is one of the leading suppliers and manufacturers of auto part in China, all along the way we have been committed ourselves to provide reliable products and...
Specialties:Rear-view mirror heater(pet and ptc heating element), Rear-view mirror glass,convex mirror,chrome coating, aluminum mirrors, Remote mirror switches, Mirror actuators (mirror motors)
Company size:51-200 employees

Liebenauer Hauptstraße 65, Graz, Austria
Industry:Computer Software
Site:jawa.at
Description:Services
The main focus of our service is the conception and development of client specific software using several technologies:
In the field of B2B solutions, we use internet technologies...
Specialties:B2b portal solutions optimised to support the management of your business processes
Founded:2001
Company size:1-10 employees
Industry:Online Media
Site:jawa-online.com
Description:With Tag Line "Bring Fun Into Games" we really concern about good content, and the most important things it should be Fun, building good community between developer, publisher, and gamer, we believe...
Specialties:Games and community
Founded:2011
Company size:1-10 employees

Level 7, Zamil House Tower, Prince Turki Bin Abdulaziz Road
Industry:Oil & Energy
Site:jawapc.com
Description:Jawa Petroleum Investment Company is one of the largest companies in gulf region which satisfies diversified industry requirements on Trading, Services, Construction, Manufacturing and ICT sectors. A ...
Specialties:Trading, Services, Construction, Manufacturing, Information technology, ...
Founded:2013
Company size:1001-5000 employees
Industry:Newspapers
Site:jawapos.com
Description:Based in Surabaya, East Java, Jawa Pos is one of the biggest newspapers in Indonesia. Number one in readership according to Nielsen Media Research at 2014.
History:
Jawa Pos was founded by...
Founded:1949
Company size:501-1000 employees

Industry:Oil & Energy
Site:id.siemens.com
Description:PT Jawa Power ("Jawa Power"), a limited liability corporation formed under the laws of the Republic of Indonesia, is owned by Siemens of Germany (50%), YTL of Malaysia (35%) and PT Bumipertiwi...
Company size:11-50 employees
Industry:Civil Engineering
Site:jawa.co.nz
Description:We are professional structural and civil engineers, led by Rob Walsham. Rob is a New Zealand Chartered Engineer, with more than 30 years of structural and civil engineering experience. JAWA has been...
Company size:11-50 employees
30 Grand Crescent Rottingdean, Brighton, United Kingdom
Industry:Broadcast Media
Site:jawpromotions.com
Description:JAW PROMOTIONS LIMITED is a Broadcast Media company located in 30 GRAND CRESCENT ROTTINGDEAN, BRIGHTON, United Kingdom.

Industry:Computer Software
Site:jawsoftware.co.uk
Description:Specialising in Visual Foxpro and FoxWeb Software Development.
Company size:1-10 employees
Industry:Food Production
Site:jawticklin.com
Description:We prepare fresh, gluten free, dairy free, sugar free, vegan meals from primarily organic fruits, vegetables, nuts and sprouted seeds.
There's no meat, dairy, refined sugar or preservatives,...
Specialties:Gluten free, Living, Digestive aid
Founded:2010
Company size:1-10 employees
Status:Inactive
Registration:Jun 11, 1949
State ID:71580339
Status:900 - expired
Status date:Jul 20, 2002
Illustration:Typeset: Word(s)/letter(s)/number(s)
Goods & Services:Motorcycles and motor driven bicycles [ , passenger automobils, trucks and busses ]
Owners (2):Jawa, Statni Podnik
Zbrojovka Brno, Narodni Podnik
Correspondent:Peter H. Smolka
BURNS, DOANE, SWECKER, ET AL
Washington Prince Street, Alexandria, VA 22313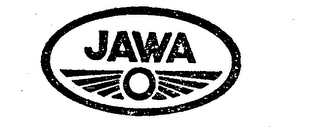 Status:Inactive
Registration:Jul 1, 1954
State ID:71669306
Reg. number:0607217
Status:900 - expired
Status date:Mar 18, 1996
Illustration:Drawing or design which also includes word(s)/ letter(s)/number(s)
Goods & Services:Land motor vehicles of all kind, particularly motor cycles, their component parts and accessories thereof
Owner:Zavody 9 Kvetna, Narodni Podnik