Industry:Human Resources
Site:jauntyangles.co.nz
Description:Jaunty Angles provides businesses with consulting HR services to help them meet objectives through current and creative solutions.
From strategic business planning and including every aspect...
Founded:2013
Company size:Myself Only
Industry:Higher Education
Site:jaunty.org
Description:Jaunty is higher education for social intelligence and people skills.
We believe everyone can successfully connect, communicate with and attract whoever they want.
We teach and cultivate...
Company size:1-10 employees
Industry:Computer Software
Site:jauntr.com
Industry:Marketing And Advertising
Site:jaunzcommunicatie.nl
Description:JAUNZ Communicatie is opgezet door Jessica de Heij. Zij is tijdens en na haar studie bij verschillende organisatie werkzaam geweest op het gebied van marketing en communicatie in zowel Nederland als...
Specialties:Marketing, Communicatie, Social Media, Online marketing
Founded:2014
Company size:Myself Only
Industry:Marketing And Advertising
Site:jaus.pe
Description:Servicios de Jaus Comunicaciones
-Estrategia de Comunicación.
-Publicidad Masiva.
-Comunicación Below The Line (BTL).
-Marketing Interno o Endomarketing.
-Trade Marketing....
Founded:2008
Company size:1-10 employees

Rustam Bagh, Bangalore, Karnataka, India
Industry:Leisure, Travel & Tourism
Site:jauntyroads.com
Description:Jaunty Roads is about personalized experiential travel that goes beyond mere sightseeing and the usual suspects. We custom craft travel plans based on traveller interests, budget and travel duration; ...
Specialties:Personalized Travel Planning, Tailor-made Tours, Unique Travel Experiences
Founded:2011
Company size:1-10 employees
Industry:Legal Services
Company size:51-200 employees
Industry:Consumer Services
Site:jaunty.net
Description:A boutique artisan shoe shine stand focussed on providing a service of the upmost quality through the use of the finest materials sourced locally and from around the globe. Located in Adelaide, South ...
Founded:2012
Company size:1-10 employees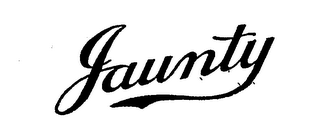 Status:Inactive
Registration:Mar 26, 1925
State ID:71211675
Status:900 - expired
Status date:Jan 10, 1986
Illustration:Drawing with word(s)/letter(s)/number(s) in Stylized form
Goods & Services:Silk crepe in the piece
Owner:Garfinkel & Ritter
Status:Inactive
Registration:Jan 9, 1942
State ID:71450086
Reg. number:0396151
Status:900 - expired
Status date:Jan 10, 1986
Illustration:Typeset: Word(s)/letter(s)/number(s)
Goods & Services:Piece goods of spun rayon fabrics
Owner:Barbizon Corporation, The

Status:Inactive
Registration:Aug 16, 1962
State ID:72151346
Reg. number:0765554
Status:900 - expired
Status date:May 25, 1984
Illustration:Drawing with word(s)/letter(s)/number(s) in Stylized form
Goods & Services:Women's and misses' hosiery
Owner:H. Mantell, Inc