Industry:Accounting
Site:jasoma-business.com
Description:We provide SME's with management accounting and business planning support, covering areas such as monthly accounts, budgeting, cash flow management and financial analysis. The major benefit of our...
Company size:1-10 employees
40 Rothwell Road, Dagenham, Essex, United Kingdom
Industry:Internet
Description:JASOM ONLINE SERVICES LIMITED is an Internet company located in 40 ROTHWELL ROAD, DAGENHAM, ESSEX, United Kingdom.
Industry:Graphic Design
Site:jasonabney.com
Description:Jason Abney Web Design & Social Media Marketing
Delivering social website brand designs, social business website integration and social influence implementation, I'm hired by small businesses to ...
Specialties:Web Design, Social Media Marketing
Founded:1973
Company size:Myself Only
Industry:Machinery
Site:jason-agri.com
Description:German Quality - Made in China - Nach diesem Motto produziert JASON Agri in Changtai, China (nahe Xiamen) mechanische Anbaugeräte für Landmaschinen, Gabelstapler, Erdbearbeitungsmaschinen und Krane....
Specialties:Mechanische Anbaugeräte für Gabelstapler -, Landmaschinen & Radlader, Lohnfertigung - Spezialanfertigungen, - Special Customer Solutions -, Mechanical Attachments for agriculture machinery -, ...
Founded:2012
Company size:51-200 employees
Industry:Writing And Editing
Site:jsalbert.com
204 W Hill, London, United Kingdom
Industry:Sporting Goods
Industry:Design
Site:madebyarchetype.com
Industry:Staffing And Recruiting
Site:jaresourcing.co.uk
Description:Jason Alexander (J. Alexander) is devoted to servicing the luxury retail industry exclusively engaging with and acquiring the leading luxury and contemporary designer fashion retail...
Specialties:Talent Acquisition, Fashion, Luxury, Apparel, Project Management
Founded:2013
Company size:11-50 employees
Industry:Design
Site:jasonamatostudio.com
Description:Graphic Designer & Illustrator - Over eight years of experience in graphic design. Knowledgable in design theory, typestyles, and color theory. Developed creative ideas and concepts, choosing the...
Founded:2013
Company size:Myself Only
1 Church Farm Cottage Church Farm Lane Great Witchingham, Norwich, Norfolk, United Kingdom
Industry:Entertainment
Site:jasonandrewsmagic.com
Description:JASON ANDREWS LIMITED is an Entertainment company located in 1 CHURCH FARM COTTAGE CHURCH FARM LANE GREAT WITCHINGHAM, NORWICH, NORFOLK, United Kingdom.
Industry:Nonclassifiable Establishments
Industry:Media Production
Site:jasonarmour.com
Description:Stuff I do.
Company size:Myself Only
Status:Inactive
Registration:Mar 8, 1979
State ID:73206516
Reg. number:1157428
Status:710 - cancelled - section 8
Status date:Dec 17, 1987
Illustration:Typeset: Word(s)/letter(s)/number(s)
Attorney:Rathburn Wyss Mason
Suite 3200
20 N. Wacker Dr., Chicago, IL 60606
Goods & Services:Buttons, sewing needles, pins, hooks and eyes, beads and sequins, knitting needles, buckles for clothing, lace embroidery, ribbons and braid, fabric monograms and name tapes
Owner:Samuel Johnson & Sons (London) Limited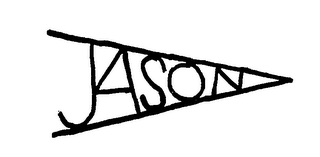 Status:Inactive
Registration:Oct 29, 1962
State ID:72156067
Reg. number:0756864
Status:900 - expired
Status date:Feb 25, 1988
Illustration:Drawing or design which also includes word(s)/ letter(s)/number(s)
Goods & Services:Jewelry
Owner:J. Abraham & Son, 7-11 W. 45Th St.