Industry:Telecommunications
Company size:11-50 employees
Industry:Information Technology And Services
Site:itw-informatik.ch
Description:We are a services company for IT solutions – with a focus on infrastructure and cloud solutions. Our competency and long-time experience resonates first and foremost in the three business segments IT...
Specialties:Information technology, Cloud computing, Database services, It services
Founded:1999
Company size:1-10 employees
Industry:Printing
Site:itwlabels.com
Description:Prime custom labels, retail shelf labels, industrial and scale labels and other labeling solutions
Company size:51-200 employees
5500 Rue Dessiant, Montreal, Quebec, Canada
Industry:Information Services
Site:itwinsulation.com
Description:ITW Insulation Systems Canada is an Information Services company located in 5500 Rue Dessiant, Montreal, Quebec, Canada.
Industry:Machinery
Company size:51-200 employees
Industry:Defense & Space
Site:itwnexus.com
Description:100 YEARS OF INNOVATION. A Division of Illinois Tools Works Inc. ITW Nexus North America & Nexus Advanced Products & Accessories
Plastic buckles and closure components have been designed and...
Founded:1912
Company size:10,001+ employees
28 North Wall Quay, Dublin, Dublin, Ireland
Industry:Consumer Services
Site:itw.ie
Description:Information about Trading with Ireland, database to find your trade partners Irish trade and financial portal, world news business information.

Bayan Lepas Free Industrial Zone, Bayan Lepas, Penang, Malaysia
Industry:Semiconductors
Site:itwecps.com
Description:ITW ECPS has 50 years of experience as a solution provider to electronic packaging systems. Over the years, through continuous effort in product innovation and customers collaboration in identifying...
89E Poljubinj, Poljubinj, Tolmin, Slovenia
Industry:Consumer Goods
Site:itwmetalflex.com
Description:ITW Metalflex d.o.o. is a Consumer Goods company located in 89e Poljubinj, Poljubinj, Tolmin, Slovenia.
Industry:Printing
Site:morlock.de
Phone:(780) 452-4860
Categories:Contractor - Insulation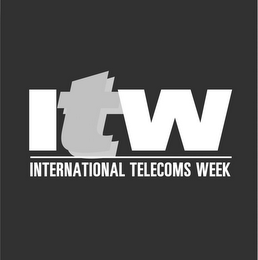 Registration:Feb 13, 2008
State ID:77395635
Reg. number:3719263
Status:700 - registered
Status date:Dec 1, 2009
Illustration:Drawing or design which also includes word(s)/ letter(s)/number(s)
Attorney:Glenn A. Gundersen
DECHERT LLP
Cira Centre 2929 Arch St, Philadelphia, PA 19104
Employee:Margery Ann Tierney
Goods & Services:Color is not claimed as a feature of the mark., "international telecoms week", Organization of conferences in the fields of communications and telecommunications
Owner:Euromoney Institutional Investor Plc