Industry:Hospitality
Site:italiankitchen.ca
Description:Contemporary italian dining
Company size:11-50 employees
Industry:Media Production
Site:italianjobstudio.com
Description:Italian Job Studio is a creative ensemble with a 100% rock core. While pursuing their acclaimed work on the most iconic comic-books series and characters, artists Riccardo Burchielli (DMZ,...
Specialties:Character design, Comics, Pre-production and development for tv and cinema, Videogames
Founded:2010
Company size:11-50 employees
Ipswich, Suffolk, United Kingdom
Industry:International Affairs
Site:theitalianjob.org
Description:Chartered Professional Italian Language & Business Services
===================================================
Italian Export and Trade Specialists and Agents, Legal, commercial, and...
Specialties:Italian export and trade specialists and agents, Legal, commercial, and engineering translations, Consecutive and simultaneous interpreting
Founded:2001
Company size:1-10 employees
Industry:Publishing
Site:italiankingdom.com
Description:Italian Kingdom non è il solito, ennesimo, progetto di racconto sulla community degli Italiani residenti a Londra. Io sono dell'idea che per presentarsi bisogna fare un passo indietro, partire dal diz...
Founded:2015
Company size:1-10 employees
Industry:Human Resources
Site:ItalianJobsLondon.com
Description:Italian Jobs London (IJL) is a temporary and permanent placement personnel agency providing to non-UK citizen workers coming to London with access to job opportunities, accommodation and assistance...
Specialties:Lavoro, Sistemazione, Sviluppo pratiche mediche
Founded:2013
Company size:1-10 employees
Industry:Marketing And Advertising
Site:italian-label.com
Description:We balance the best features of old and new media to deliver results for marketing, design, and creative projects at many different latitudes.
Our approach is to combine the knowledge of...
Specialties:Branding & corporate identity, Advertising & collateral, Web design, Search engine optimization & marketing, Social media marketing, ...
Founded:2011
Company size:1-10 employees
Industry:Building Materials
Site:ikdd.us
Description:Italian Kitchen Design and Distribution is proud to present Italian-designed and manufactured modular kitchen systems to our discerning commercial and residential customers.
IKDD kitchens are...
Specialties:Cabinetry, Design, Import and distribution
Founded:2007
Company size:1-10 employees

Vicolo Scavolino 64A, Roma, Rm, Italy
Industry:Food & Beverages
Site:italiankitchenacademy.com
Description:Italian Kitchen Academy è l'unica accademia dedita alla formazione individuale pensata su misura per ogni singolo iscritto al fine di offrire: formazione, professionalità ed immediato inserimento nel ...
Founded:2014
Company size:Myself Only
101 St. Martin's Lane, London, England, United Kingdom
Industry:Sporting Goods
Description:ITALIAN JOURNEYS LIMITED is a Sporting Goods company located in 101 St. Martin's Lane, London, England, United Kingdom.
Industry:Apparel & Fashion
Site:theitalianjob.sm
Description:Sister company of Garmon Chemicals, THE ITALIAN JOB is a technical-creative studio, whose birthright is responsible chemistry applied to fashion.
Privately held and based in the Republic of San...
Specialties:Chemical r&d applied to denim & apparel finishing, Training & education on garment processing, Concept, fabric, style research, Apparel innovation workshops
Founded:2005
Company size:11-50 employees
Milan Area, Milano, Italy
Industry:Writing And Editing
Site:theitalianjuice.com
Description:The Italian Juice is a window on the life of the italian actor Aron Marzetti. It is also a blog of research: research on style, discover new trends in the world of fashion, motors, design.
This...
Specialties:Blogging, Fashion
Founded:2014
Company size:1-10 employees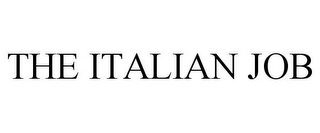 Status:Inactive
Registration:Aug 23, 2006
State ID:78958927
Status:604 - abandoned - after inter-partes decision
Status date:Dec 10, 2007
Illustration:Drawing with word(s)/letter(s)/number(s) in Block form
Attorney:Lawrence E. Abelman
ABELMAN, FRAYNE & SCHWAB
666 Third Avenue, New York, NY 10017
Employee:William M Rossman
Goods & Services:"italian", Wines, hard cider, distilled spirits, vodka; prepared alcoholic cocktails; liqueurs; alcoholic fruit extracts; alcoholic malt coolers; all the aforesaid goods originating from italy
Owner:Incorporated Beverages (Jersey) Limited