Industry:Photography
Site:smbhmag.com
Industry:Computer Software
Site:issuetracker.eworkplaceapps.com
Industry:Apparel & Fashion
Site:theissueoffashion.com
Description:Through finding, evaluating and engaging with new designers we will be the link that unites mutually beneficial relationships to create excitement and interest.
The concept is to introduce new...
Specialties:Market trends, Negotiating, Customer profiling, Buying, Merchandising, ...
Founded:2014
Company size:1-10 employees
Industry:Internet
Site:issuepop.com
Description:Issue Pop is a web application that allows web agencies and freelancers to collect feedback from their clients for the site they are working on. Issues can then be prioritised and discussed, and...
Founded:2013
Company size:Myself Only
Industry:Apparel & Fashion
Site:issueone-agency.com
Description:ISSUE ONE's unique designs and high fashion italian fabrics will soon collaborate in the launch of its first collection....stay tuned and follow us for updates!
ISSUE ONE was created in the...
Specialties:High fashion womenswear, Fashion design, Creative, Marketing
Founded:2013
Company size:Myself Only
Industry:Performing Arts
Site:issueprojectroom.org
Industry:Design
Site:issue25.com
Description:We are 24 students graduating from two very innovative courses in the School of Art & Design here in Salford, BA Design Futures, and BA Design Management for the Creative Industries.
Our courses ...
Specialties:Design thinking, Engaging education with employers
Founded:2011
Company size:51-200 employees
Industry:Health, Wellness And Fitness
Site:issue1.nl
Description:Issue One is a full service market research agency. What makes us unique:
Our small scale which allows us to be directly engaged with each project at all times.
The sound knowledge of...
Specialties:Readability testing, Market research, User testing, Regulatory affairs
Founded:2005
Company size:Myself Only
70 Central Avenue, Cambridge, Cambridgeshire, United Kingdom
Industry:Management Consulting
Site:issueurban.co.uk
Description:Issue Urban provides managed consultancy solutions to development sector clients in areas of research, evaluation, strategy and technical assistance.
Specialising in issues of urban development...
Specialties:Research, Evaluation, Technical assistance, Strategy
Company size:1-10 employees
Industry:Information Services
Site:IssueSolvers.com
Description:The Issue Solvers have proven requirements gathering expertise in numerous environments—RUP (Rational Unified Process) methodology, Use Cases, UML Diagramming, JAR/JAD sessions, J2EE Infrastructure,...
Company size:1-10 employees
Stefana Okrzei 23/63, Warsaw, Poland
Industry:Internet
Site:issuestand.com
Description:Issue Stand is the easiest & fastest mobile publishing tool. We help small and medium publishers take their first steps in the world of digital press.
You need a digital publishing software that ...
Founded:2012
Company size:1-10 employees
Industry:Computer Software
Site:issuefly.com
Description:The IssueFly is the world's simplest online issue tracking app to organize communication in business to buisness projects.
Specialties:Issue managemant, Buiness to business communication, Project managemant
Founded:2015
Company size:1-10 employees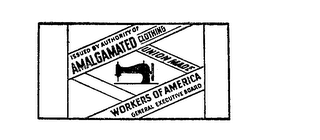 Status:Inactive
Registration:Aug 24, 1961
State ID:72126554
Reg. number:0735816
Status:900 - expired
Status date:Jan 12, 1988
Illustration:Drawing or design which also includes word(s)/ letter(s)/number(s)
Goods & Services:The certification mark is used by persons authorized by applicant to certify that the work or labor on the goods was performed by members of applicant., Goods
Owner:Amalgamated Clothing Workers Of America
Industry:Telecommunications
Site:aqa.63336.com
Description:AQA 63336 text service. Answers any question sent by text to 63336. 75% of answers are received in under 5 minutes. The AQA 63336 service uses over 1100 highly qualified self employed researchers to...
Specialties:Brilliant answers by text
Founded:2002
Company size:11-50 employees