Industry:Wine And Spirits
Site:Ispiriwines.com
Industry:Computer Software
Site:ispirt.in
Description:To transform India into a hub for new generation software products, it is crucial to address government policy, create market catalysts and grow the maturity of product entrepreneurs. An integrative...
Specialties:Software products,, Indian software industry, Thinktank,, Transforming india
Founded:2013
Company size:1-10 employees
Industry:Construction
Site:ispiri.com
Industry:Retail
Site:WWW.ISPIRITUAL.COM
Description:We are the premium personal labyrinth company created in 1998. Our labyrinths have received awards for their craftsmanship and quality. iSpiritual Labyrinths works extensively with both schools and...
Specialties:Labyrinths
Founded:1998
Company size:Myself Only
Industry:Import And Export
Industry:Internet
Site:ispiristudio.com
Description:Ispiri Studio is a web design firm in Chicago. We specialize in digital web branding utilizing effective and powerful solutions.
Company size:1-10 employees
84 Fetter Ln, London, United Kingdom
Industry:Information Technology And Services
Description:ISPL LIMITED is an Information Technology and Services company located in 84 Fetter Ln, London, United Kingdom.

Dokter Van Stratenweg, Gorinchem, Netherlands
Industry:Professional Training & Coaching
Site:ispirepeople.com
Description:Everyone comes from different backgrounds and has different stories and these might have predicted your past, but they don't have to predict your future. All of us have one thing in common and that is...
Specialties:Life coaching, Expat coaching, Business coaching
Founded:2014
Company size:Myself Only

Kulman 11-17, Minsk, Belarus
Industry:Information Technology And Services
Site:ispirer.com
Description:Ispirer Systems is an Independent Software Vendor that has taken the automation of database and application migration to unprecedented new levels. We help companies to modernize their database and...
Specialties:Database migration, Database conversion, Api migration, Embedded sql migration
Founded:1999
Company size:11-50 employees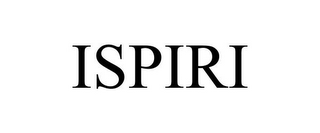 Registration:Jun 12, 2013
State ID:85957324
Reg. number:4474663
Status:700 - registered
Status date:Jan 28, 2014
Illustration:Drawing with word(s)/letter(s)/number(s) in Block form
Attorney:Ryan Thompson; Ispiri Wheels (Uk) Ltd
Employee:David C Reihner
Goods & Services:Land vehicle parts, namely, wheels; vehicle wheel rims; vehicle wheels; wheel rims for motor cars; automobile wheels, The english translation of "ispiri" in the mark is "inspire".
Owner:Ispiri Wheels (Uk) Ltd