Status:Inactive
Doing business as:Islay Holdings, LLC
Industry:Leisure, Travel & Tourism
Site:islayhouse.co.uk
Description:One of Scotland's largest and most significant mansions, Islay House will be open as a hotel from May 2015 following extensive renovation works. Islay House will exceed the top-end of the Islay hotel ...
Founded:2014
Company size:1-10 employees
Industry:Leisure, Travel & Tourism
Site:islayinfo.com
Description:Islay Info offers practical information for visitors to the Scottish Isle of Islay through its webpages and photography. Included is an overview of accommodation on the island, a blog with daily news ...
Specialties:Web Design, Photography, Information, News
Founded:2005
Company size:Myself Only
Industry:Renewables & Environment
Site:islayenergytrust.org.uk
Description:The Islay Energy Trust is a community owned organisation that aims to develop renewable energy projects for the benefit of the community whilst reducing Islay's carbon footprint. IET is managed by a...
Company size:1-10 employees
Industry:Hospital & Health Care
Site:islewatercrest.com
2 The Rein Westwoodside, Doncaster, South Yorkshire, United Kingdom
Industry:Automotive
Site:valleyislemotors.com
Description:THE ISLE CAR COMPANY LIMITED is an Automotive company located in 2 THE REIN WESTWOODSIDE, DONCASTER, SOUTH YORKSHIRE, United Kingdom.
Industry:Apparel & Fashion
Industry:Computer Software
Description:THE ISLAY WHISKY CO LIMITED is a Computer Software company located in Leeds, United Kingdom.
154 W Fen Rd, Ely, United Kingdom
Industry:Real Estate
Description:ISLE ASSOCIATES LIMITED is a Real estate company located in 154 W Fen Rd, Ely, United Kingdom.
Isle Of Whithorn, United Kingdom
Industry:Recreational Facilities And Services
Description:As a boat skipper I have over 30 years of sea angling experience and was international sea angling team member & know a trick or two to get a fish to bite.
Industry:Chemicals
Site:islayestates.com
Description:The Island of Islay is the southernmost island of the Hebrides; it is located approximately 20 miles west of the Mull of Kintyre about 25 miles north of NI.

Industry:Human Resources
Site:islay-hr.nl
Description:For interim project relating to Compensation & Benefits, expats. But also reorganizations, merger and acquisition, executive compensation, set-up HR management information, implementation HRIS and a...
Company size:Myself Only
Status:Inactive
Registration:Sep 22, 1975
State ID:73063730
Reg. number:1055727
Status:710 - cancelled - section 8
Status date:May 31, 1983
Illustration:Typeset: Word(s)/letter(s)/number(s)
Goods & Services:Blended scotch whisky
Owners (2):D. Johnston & Company
D. Johnston & Company (Laphroaig) Limited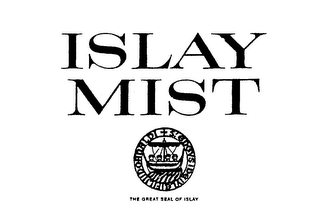 Status:Inactive
Registration:Aug 16, 1993
State ID:74425202
Reg. number:1917416
Status:710 - cancelled - section 8
Status date:Jul 20, 2002
Illustration:Drawing or design which also includes word(s)/ letter(s)/number(s)
Attorney:Donna L. Berry
Krass & Young
3001 W. Big Beaver Road, Troy, MI 48084
Employee:William Patr Shanahan
Goods & Services:Distilled spirits
Owner:Macduff & Company Limited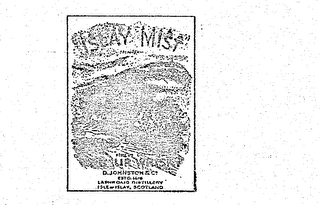 Status:Inactive
Registration:Jun 28, 1934
State ID:71353275
Status:900 - expired
Status date:Sep 25, 1995
Illustration:Drawing or design which also includes word(s)/ letter(s)/number(s)
Goods & Services:The applicant disclaims all wording, with the exception of "islay mist" and the name under which applicant is doing business., Whisky
Owner:Ian William Hunter