Industry:Marketing And Advertising
Site:iowadoordeals.com
Description:Iowa Door Deals is locally owned and offers a unique advertising/fundraising program to many of our Iowa communities. For advertisers, we provide a highly effective, low cost means of "front door"...
Specialties:Advertising for Local Businesses, Fundraising Opportunity for Local Teams, Clubs and Organizations
Founded:2010
Company size:1-10 employees
Industry:Banking
Site:ifsbank.com
Description:Iowa Falls State Bank is a family owned community bank that takes pride in developing deep life-long relationships based on thoughtful, reliable and confidential service. The bank has 70 years of...
Company size:11-50 employees
Industry:Newspapers
Site:iowafarmertoday.com
Industry:Nonprofit Organization Management
Industry:Aviation & Aerospace
Site:iowaee.com
Description:Iowa Embedded Engineering is a global company in embedded product development. Our focus is to service our clients with a balanced approach to cost and performance which leverages our diversified...
Specialties:DO-178C based software development and verification, DO-254 based hardware verification, Integrated Video solutions, Model based software development
Founded:2011
Company size:11-50 employees
Industry:Primary/secondary Education
Site:iowa-falls.k12.ia.us
Description:Iowa Falls-Alden High School
Company size:11-50 employees
Industry:Higher Education
Site:iowajatc.org
Description:An organization providing education and training for apprentices and professionals within the telecommunications and electrical industry.
Company size:1-10 employees
Industry:Government Administration
Site:iowadnr.gov
Description:The Iowa Department of Natural Resources is the government agency that leads Iowans in caring for their natural resources. It is responsible for maintaining state parks and forests, protecting the...
Company size:501-1000 employees

Industry:Consumer Goods
Site:iec-ia.org
Description:The Iowa Educators Consortium's main focus is to provide customers with best pricing for quality products from great vendors and manufacturers. Our primary customer is any education institution,...
Specialties:research products, bid process, marketing, customer service
Founded:2002
Company size:1-10 employees
Industry:Law Enforcement
Site:dpscareers.com
Description:Iowa's premier law enforcement agency consisting of the Iowa State Patrol, Iowa Division of Criminal Investigation DCI, Iowa Division of Narcotics Enforcement DNE and the State Fire Marshal...
Specialties:Excellence in Service and Protection All Ways
Company size:501-1000 employees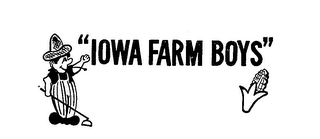 Status:Inactive
Registration:Jul 29, 1964
State ID:72198737
Status:900 - expired
Status date:Aug 18, 1985
Illustration:Drawing or design which also includes word(s)/ letter(s)/number(s)
Goods & Services:House trailers
Owner:Iowa Farm Boys Trailer Sales, Inc
Industry:Chemicals
Site:iowafertilizercompany.com
Description:Iowa Fertilizer Company is a wholly owned subsidiary of Netherlands-based OCI N.V., a global leader in nitrogen fertilizer production as well as an engineering and construction contractor. OCI N.V....
Founded:2013
Company size:51-200 employees