Site:iff-logistics.com
Phone:(604) 278-0191
Member:Joe Chan (Owner/Manager)
Categories:Freight Forwarding
Site:ifashions.ca
Phone:(604) 370-1848
Member:Marcie Effler Bailey (Design Director)
Categories:Fashion Consultants
Industry:Design
Company size:1-10 employees
Industry:Apparel & Fashion
Industry:Think Tanks
Site:internationalfastconsulting.com
Description:Somos un equipo de especialistas, comprometidos con las ventas de tu organización, respetando la cultura de tu empresa y aplicando soluciones inmediatas, medibles, lógicas y fácilmente...
Specialties:Ventas, Formación, Creación y captación de Valor
Founded:2012
Company size:1-10 employees
Industry:Photography
Site:stevebrickles.com
Description:Oops! That description includes words that violate our User Agreement. Please try again with a different description or contact Customer Support.
go figure
I'm a photographer.... I take...
Specialties:fashion photography, limited edition fine art photography print sales, porttrait photography
Founded:1996
Company size:1-10 employees
Industry:Apparel & Fashion
Site:internationalfashionstyleacademy.com
Description:Our Mission
To provide innovative learning techniques to our participants for real world practices by providing them the technical skills, learner applications and support for readiness for a...
Specialties:International Fashion Styling courses, Personal Styling courses, Fashion Education
Founded:2011
Company size:Myself Only
Industry:Entertainment
Site:fashionweek-lasvegas.com
Industry:Textiles
Site:infacorp.com
Description:INFACORP is a group of companies present in different countries in the world like Spain, Germany, Hong Kong and the U.S.A., with extensive international experience in managing the purchase and sale...
Company size:1-10 employees
Office No. 2, Al-Hafeez Tower, Gulberg, Lahore, Punjab, Pakistan, Pakistan
Industry:Food Production
Description:The International Fashion Academy of Pakistan (IFAP) is a private training institute which provides a comprehensive teaching and resource programs for Grooming, Photography, Makeup and Modeling for...
Industry:Apparel & Fashion
Site:internationalfashiongroup.com.au
Description:Owned by entrepreneur and industry leader, David Mendels, International Fashion Group (IFG) is at the forefront of bringing the best international fashion brands to the Australian and New Zealand...
Founded:2003
Company size:11-50 employees
Industry:Apparel & Fashion
Site:ifashions.ca
Description:International Fashions is a Canadian-based fashion distribution and licensing company with a worldwide reach. With thirty years of experience and a team of over sixty employees we are committed to...
Founded:1981
Company size:51-200 employees
Industry:Retail
Site:soullycreated.com
Description:My styles are form
Montreal Toronto California new york Bali
from hip on hemp
inspired desighner handbags
artistic jewelry
essential oils and much more ..
located in the ...
Company size:Myself Only

5333 Casgrain Avenue, Suite #101, Montreal, Quebec, Canada
Industry:Apparel & Fashion
Site:ifccorp.ca
Description:From conception to completion, International Fashion Collections is your one stop shop to meet all your apparel needs.
We represent an unique concept in buying for the American market, that have ...
Specialties:fashion design, exclusive prints, patterns, sourcing, quality control, ...
Founded:2012
Company size:10,001+ employees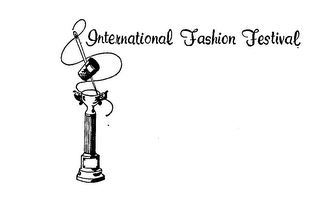 Status:Inactive
Registration:Dec 5, 1963
State ID:72182402
Reg. number:0790526
Status:900 - expired
Status date:Sep 1, 1985
Illustration:3000
Goods & Services:Promoting, arranging and staging annual fashion exhibits for designers and manufacturers of womens fashions
Owner:Jerome J. Berger, Doing Business As International Fashion Festival