Industry:Education Management
Status:Inactive
Doing business as:Cb Credit Repair
Industry:Financial Services
Site:cbdebtsolutions.com
Description:We are one of the largest and best companies in the country helping people to become credit card debt free. Every new customer gets their own web page to monitor their progress in the program. Our...
Specialties:Getting out of unsecured debt (credit cards), Loan Modifications
Company size:201-500 employees
Industry:Entertainment
Site:sintillate.wix.com
Reutlingen, Baden-Wurttemberg, Germany
Industry:Furniture
Site:cb-cb.de
Description:Cb creative bueroeinrichtung gmbh is a Furniture company located in Reutlingen, Baden-Wurttemberg, Germany.
Industry:Public Relations And Communications
Site:x
Description:Freelance
Company size:Myself Only

Columbine Road, Ely, United Kingdom
Industry:Graphic Design
Site:cb2creative.com
Description:CB Creative is a Cambridge based design, web and print company. We offer a design service that is efficient, professional and affordable without compromising on quality or creativity. Have a look at...
Specialties:Print Design, Exhibitions, eMagazines, Magazine Design and Production, Web Design, ...
Founded:2010
Company size:1-10 employees
58 Thorpe Road, Norwich, Norfolk, United Kingdom
Industry:Retail
Description:CB CRICKET COACHING LTD is a Retail company located in 58 THORPE ROAD, NORWICH, NORFOLK, United Kingdom.
45 Cathcart St, Chatham-Kent, Ontario, Canada
Industry:Transportation/trucking/railroad
Description:CB Deliveries is a Transportation/Trucking/Railroad company located in 45 Cathcart St, Chatham-Kent, Ontario, Canada.

Avenida Del Llano, 69, Gijon, Asturias, Spain
Industry:Sports
Site:cbcorpi.es
Description:Esta es la pagina del CB CORPI en Linkedin. Somos un club de baloncesto ubicado en la ciudad de Gijon, en Asturias. Nuestra base de trabajo es la cantera. Trabajamos con las futuras estrellas del...
Founded:1995
Company size:51-200 employees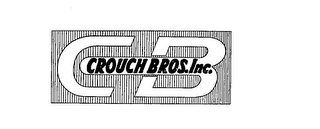 Status:Inactive
Registration:Oct 26, 1961
State ID:72130696
Reg. number:0765243
Status:900 - expired
Status date:May 18, 1984
Illustration:Drawing or design which also includes word(s)/ letter(s)/number(s)
Goods & Services:Transportation of goods by motor truck, The drawing is lined for the color red.
Owner:Crouch Bros., Inc