Industry:Information Technology And Services
Industry:Internet
Site:causerie.com
Description:We are a web property holding company. Here at Causerie, we look for areas where there is a lack of information either available or reliable on the internet and we work to provide a quality solution...
Company size:1-10 employees
Industry:Internet
Site:causera.com
Description:Causera is a social fundraising company that helps nonprofit groups run innovative fundraising programs that leverage their community's social graph and provide a value-added service. In a very short ...
Specialties:Social fundraising, Social good
Founded:2011
Company size:1-10 employees
Industry:Automotive
Site:causer.com.ar
Industry:Philanthropy
Site:CauseSMART.com
Description:CauseSMART is a a boutique strategic communications firm helping organizations activate their vision, insight and ideas into powerful thought leadership that inspires and connects.
CauseSMART...
Specialties:Thought leadership campaigns, Brand positioning and strategy, Strategic communications and messaging, Website & blog creation and development
Founded:2013
Company size:Myself Only
Industry:Online Media
Site:causeur.fr
Description:Causeur est un site et magazine de réflexion et de débat sur l'actualité animé par la journaliste et essayiste Elisabeth Lévy. Chaque jour, Causeur.fr éclaire l'actualité par des points de vue...
Founded:2007
Company size:1-10 employees
21 River Green Hamble, Southampton, Hampshire, United Kingdom
Industry:Real Estate
Description:CAUSEQUEST LIMITED is a Real estate company located in 21 RIVER GREEN HAMBLE, SOUTHAMPTON, HAMPSHIRE, United Kingdom.

38, Rue Gabrielle, Charenton Le Pont, France
Industry:Marketing And Advertising
Site:causesandco.com
Description:Causes and co accompagne les associations, fondations et les programmes RSE d'entreprises dans leurs stratégies de positionnement et de développement des ressources.
- Positionnement et...
Specialties:Communication responsable et stratégies de cause, Collecte de fonds et fundraising, Stratégies de mobilisation et plaidoyer, Stratégies de contenus on et offline
Founded:2012
Company size:Myself Only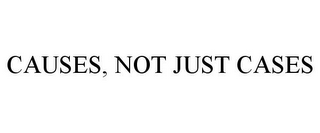 Registration:Mar 1, 2012
State ID:85557745
Reg. number:4229512
Status:700 - registered
Status date:Oct 23, 2012
Illustration:Drawing with word(s)/letter(s)/number(s) in Block form
Attorney:Ellen A. Rubel
Moore & Van Allen PLLC
3015 Carrington Mill Blvd. Suite 400, Morrisville, NC 27560
Employee:Alain J Lapter
Goods & Services:On-line journals, namely, blogs featuring legal news, opinions, information, analysis case summaries and advisories, information on recent court decisions, Legal services
Owner:Motley Rice Llc, 28 Bridgeside Blvd.