Industry:Automotive
Site:wakefieldcanada.ca
Description:Distributor of Castrol Products:
Our Mission
To harness the product and technology leadership of BP, Wakefield Canada will develop an entrepreneurial, customer intimate organization that...
Founded:2005
Company size:51-200 employees

Praça Dos Imigrantes, 03, Colônia Castrolanda, Castro, Paraná, Brazil
Industry:Farming
Site:castrolanda.coop.br
Description:Nos últimos anos a Castrolanda tem se dedicado à expansão dos negócios, parte desta prática como estratégia, e por consequência conquista cada vez mais espaço entre as maiores e melhores Cooperativas...
Founded:1951
Company size:1001-5000 employees
Industry:Oil & Energy
Site:castrol.com
Registration:Oct 26, 1981
State ID:73334055
Reg. number:1213753
Status:800 - registered and renewed
Status date:Nov 19, 2012
Illustration:Typeset: Word(s)/letter(s)/number(s)
Attorney:Donald C. Knapp
BP AMERICA INC
150 West Warrenville Road, Naperville, IL 60563
Goods & Services:Metal cutting oil
Owner:Castrol Limited
Status:Inactive
Registration:Jul 6, 1995
State ID:74697605
Status:600 - abandoned - incomplete response
Status date:Feb 26, 1997
Illustration:Typeset: Word(s)/letter(s)/number(s)
Attorney:Herbert D. Hart Iii
McAndrews, Held & Malloy, Ltd
34Th Floor 500 West Madison Street, Chicago, IL 60661
Employee:Adam Charles Striegel
Goods & Services:Auxiliary fluids for use in machining and/or metalworking operations; coolants for vehicle engines and aircraft engines; hydraulic fluids for general use; degreasing preparations used in aircraft...
Owner:Castrol Limited
Status:Inactive
Registration:Mar 5, 1948
State ID:71551343
Status:900 - expired
Status date:Mar 27, 2010
Illustration:Typeset: Word(s)/letter(s)/number(s)
Attorney:George P. Kramer & Anthony L. Fletcher
HUNTON & WILLIAMS
100 Park Ave., New York, NY 10017
Goods & Services:Oils and greases for lubricating, heating, and lighting
Owners (2):Castrol Limited
C.c. Wakefield & Company Limited
Status:Inactive
Registration:Oct 26, 1981
State ID:73334064
Reg. number:1315222
Status:710 - cancelled - section 8
Status date:May 2, 1991
Illustration:Typeset: Word(s)/letter(s)/number(s)
Attorney:George P. Kramer
Conboy, Hewitt, O'Brien & Boardman
100 Park Ave., New York, NY 10017
Employee:David H Stine
Goods & Services:Chemical preparation for removing contaminants from metal
Owner:Castrol Limited
Status:Inactive
Registration:Jul 5, 1995
State ID:74698010
Reg. number:2172115
Status:710 - cancelled - section 8
Status date:Apr 18, 2009
Illustration:Typeset: Word(s)/letter(s)/number(s)
Attorney:Donald C. Knapp
BP AMERICA INC
4101 Winfield Road, Warrenville, IL 60555
Employee:Elizabeth Pasquine
Goods & Services:Cleaning, scouring, polishing, degreasing, rust removing, sanitary, paint stripping, and abrasive preparations; soaps; detergents; all for industrial use
Owner:Castrol Limited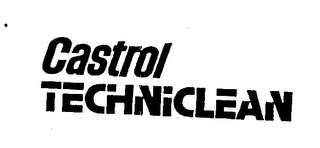 Status:Inactive
Registration:Nov 12, 1991
State ID:74221270
Status:606 - abandoned - no statement of use filed
Status date:Feb 22, 1998
Illustration:Drawing with word(s)/letter(s)/number(s) in Stylized form
Attorney:Herbert D. Hart Iii
McAndrews, Held, & Malloy, Ltd
500 West Madison Street, Chicago, IL 60661
Employee:Caryn L Hines
Goods & Services:Cleaning, scouring, polishing, degreasing, rust removing, sanitary, paint stripping, and abrasive preparations; soaps; detergents; all for industrial use
Owner:Castrol Limited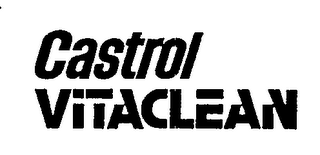 Status:Inactive
Registration:Nov 12, 1991
State ID:74221272
Status:606 - abandoned - no statement of use filed
Status date:Sep 29, 1996
Illustration:Drawing with word(s)/letter(s)/number(s) in Stylized form
Attorney:Herbert D. Hart Iii
McAndrews, Held, & Malloy, Ltd
500 West Madison Street, Chicago, IL 60661
Employee:Caryn L Hines
Goods & Services:Cleaning, scouring, polishing, degreasing, rust removing, sanitary, paint stripping, abrasive preparations; soaps; detergents; all for industrial use, Castrol vita-clean
Owner:Castrol Limited
Status:Inactive
Registration:Jul 5, 1995
State ID:74698011
Reg. number:2187024
Status:710 - cancelled - section 8
Status date:Jun 11, 2005
Illustration:Typeset: Word(s)/letter(s)/number(s)
Attorney:Herbert D Hart Iii
McAndrews, Held & Malloy Ltd
500 West Madison Street, Chicago, IL 60661
Employee:Elizabeth Pasquine
Goods & Services:Cleaning, scouring, polishing, degreasing, rust removing, sanitary, paint strippling, and abrasive preparations; soaps; detergents; all for industrial use
Owner:Castrol Limited
Status:Inactive
Registration:Oct 12, 1984
State ID:73418768
Status:710 - cancelled - section 8
Status date:Aug 27, 1991
Illustration:Typeset: Word(s)/letter(s)/number(s)
Attorney:George P. Kramer
CONBOY, HEWITT, O'BRIEN AND BOARDMAN
100 Park Ave., New York, NY 10017
Employee:Nancy Ca Slutter
Goods & Services:Motor oils
Owners (2):Castrol Limeted
Castrol Limited