Industry:Financial Services
Industry:Machinery
Site:shellingmachine.com
50 Mark Ln, London, United Kingdom
Industry:Financial Services
Site:cashfac.com
Description:CASHFAC PLC is a Financial Services company located in 50 Mark Ln, London, United Kingdom.
Industry:Retail
Site:cashewcube.com
Description:We love Cashews ! And we are on a mission to make you fall in love with this wonder nut. We deliver a variety of deliciously juicy cashews right to you. You can find wholes, splits and pieces in...
Specialties:E-Commerce, Nuts, Cashews
Founded:2015
Company size:1-10 employees
50 Mark Lane, London, United Kingdom
Industry:Computer Software
Site:cashfac.com
Description:About Cashfac Technologies
Cashfac Technologies is a global leader in Cash Management solutions for financial institutions, corporates and public sector organisations. Cashfac delivers...
Specialties:Cash Management, Reconciliation, Virtual Bank Accounts, Treasury, Client Money
Founded:1992
Company size:51-200 employees

Avenida Paes De Barros, 373, Mooca, São Paulo, São Paulo, Brazil
Industry:Computer Software
Site:cashew.com.br
Description:Uma empresa inovadora voltada ao desenvolvimento de soluções web com o foco em comercio eletrônico. Atuando na elaboração e manutenção de plataformas robustas e personalizadas, marketing digital,...
Founded:2013
Company size:1-10 employees
Industry:Financial Services
Site:cashfactor.co.nz
Description:At Cashfactor we specialise in providing a range of cash flow solutions for small to medium size businesses. We do this through Invoice Discounting, Factoring and Debt Collection. We work with...
Specialties:Debtor Finance, Factoring, Invoice Discounting, Cash Flow Solutions, Funding growth
Founded:2005
Company size:1-10 employees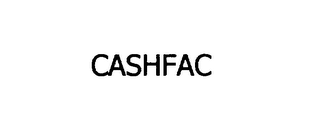 Status:Inactive
Registration:Jul 17, 2000
State ID:76091773
Reg. number:2954026
Status:710 - cancelled - section 8
Status date:Sep 21, 2012
Illustration:Typeset: Word(s)/letter(s)/number(s)
Attorney:Veronica Colby Devitt
THELEN REID & PRIEST L.L.P
PO Box 190187, San Francisco, CA 94119
Employee:Jason Fitzgera Turner
Goods & Services:Blank compact discs for recording; automatic vending machines, fire extinguishers; cash registers, calculators, computers and computer software, namely, software for facilitating financial...
Owner:Cashfac Limited