Status:Inactive
Doing business as:Casaday & Associates, Inc
Industry:Real Estate
Site:casadeldevelopers.com
Description:Our mission is to deliver value to our customers by creating high quality living spaces in which people want to live, work, enjoy and invest.
Casadel Developers is committed to being one of the...
Specialties:Luxury Villas, Apartments
Founded:2014
Company size:11-50 employees

Industry:Leisure, Travel & Tourism
Site:casadeltemporitrovato.com
Description:Charming b&b
Company size:Myself Only

Via A. Righi, 1, Forlì, Fc, Italy
Industry:Renewables & Environment
Site:casadeipellizzaro.com
Description:L'azienda Casadei & Pellizzaro nasce dalla fusione nel 1994 di due realtà storiche, la società "F.lli Casadei", distributrice di prodotti petroliferi e concessionaria AGIP, e "Bruciatori Pellizzaro"...
Specialties:Manutenzione Impianti Tecnologici, Building Automation, Domotica, E.S.Co. Energy Service Company, Lonworks
Founded:1969
Company size:11-50 employees
Industry:Banking
Site:cascadehomeloans.com.au
Description:Cascade Home Loans has provided well structured home loans to its clients for over 4 years. We have now changed our trading name to Tradies Finance and are looking to expand the services we offer.
Company size:1-10 employees

Passatge Constatins S/n, Bonmati, Girona, Spain
Industry:Food & Beverages
Site:casademont.com
Description:Empresa cárnica, fabricante de embutidos, jamones curados y productos cocidos. Productos derivados del cerdo y de las aves.
Meat producing company specialised in cured and cooked products as...
Specialties:Cured sausages like fuet, chorizo, Jamon Serrano - Serrano ham
Founded:1956
Company size:201-500 employees
Industry:Construction
Site:casadeisteel.com
Description:AISC Certified fabricator and erector of structural steel, miscellaneous steel and ornamental iron. Services include detailing, engineering, fabrication and erection. Capable of handling any size...
Specialties:Steel Fabrication, Steel Erection, Steel Detailing, Design and Build
Founded:2000
Company size:51-200 employees
Via Tane Di Baragone 11, Galazzano, Serravalle, San Marino
Industry:Machinery
Site:casadei-industria.com
Description:Casadei Industria S.r.l. is in the vanguard of producing Automatic Edge Banding Machines for the wood, photographic architectural/building industries and Vertical Machining Centres to process wood,...
Specialties:Manifatturiera
Founded:1994
Company size:51-200 employees

Via Magazzini Anteriori, 63, Ravenna, Italy
Industry:Maritime
Site:casadeighinassi.com
Description:Casadei & Ghinassi srl Shipping and Forwarding agency based, is present, since 1978 in the shipping, maritime, air, land and railway transport fields.
After over 35's of experience, we are still...
Specialties:Shipping & Forwarding Agents, Cargo Handling - Road and Sea Transport, Custom Clearance Agents
Founded:1978
Company size:11-50 employees
Status:Inactive
Registration:Dec 2, 1977
State ID:73150722
Reg. number:1139811
Status:710 - cancelled - section 8
Status date:Feb 25, 1987
Illustration:Typeset: Word(s)/letter(s)/number(s)
Attorney:F. M. Derosa
Watson, Cole, Grindle & Watson
1909 K St. Nw., Washington, DC 20006
Goods & Services:Cases adapted for carrying cassettes of magnetic tapes
Owners (2):Multiple Sound Distributors Limited
Multiple Sound Distributors Limited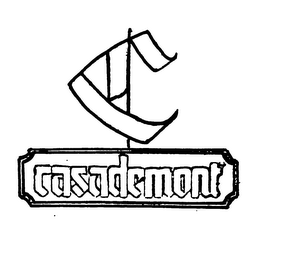 Status:Inactive
Registration:Feb 23, 1981
State ID:73298400
Reg. number:1202904
Status:710 - cancelled - section 8
Status date:Feb 27, 1989
Illustration:Drawing or design which also includes word(s)/ letter(s)/number(s)
Attorney:Michael J. Striker
Goods & Services:Meat
Owner:Casademont Perafita; Don Jaime, C/. Sepulveda No. 41, Entlo. 7
Correspondent:Michael J. Striker & John M. Striker
360 Lexington Ave., New York, NY 10017