Industry:Professional Training & Coaching
Site:caramba.co.uk
Phone:(604) 461-7676, (604) 461-7222 (Fax)
Member:Owner/Manager
Categories:Restaurants
Industry:Graphic Design
Site:caramba.com.uy
Description:Caramba se especializa en la construcción una visión estratégica de comunicación corporativa para ayudar a su relación con el mercado. Desde un folleto o una tarjeta de presentación a una campaña de...
Specialties:Diseño Gráfico, Diseño y Desarrollo Web, Fotografía y Edición, Modelado 3D, Publicidad y medios, ...
Company size:1-10 employees
Industry:Marketing And Advertising
Site:pedecarambola.com.br
Description:A Carambola é uma empresa de marketing de relacionamento com foco no relacionamento com o cliente (B2B e B2C) e consequente aumento da sua rentabilidade e permanência. Atuamos junto aos departamentos...
Specialties:Relationship Marketing, Data Mining, CRM, DBM, Eventos, ...
Founded:2012
Company size:11-50 employees

Franklin Rooseveltlaan 349W, Gent, Belgium
Industry:Information Technology And Services
Site:carambla.com
Description:City parking,... not easy when 80% of traffic is also looking for a free parking spot and most of the big private & paying carparks are overpriced.
Carambla offers a smart alternative for...
Specialties:parking, mobility, mobile, collaborative consumption
Founded:2011
Company size:1-10 employees
Av. San Sebastían, Torre Scorpio, Piso 3, Oficina 3B. La Trinidad, Caracas, Miranda, Venezuela
Industry:Media Production
Site:caramba.com.ve
Description:Empresa especializada en el área de Producción Audiovisual y Diseño Gráfico.
Caramba Producciones es una empresa que se establece formalmente en el año 2006, en manos de sus dos socios, quienes...
Specialties:Producción Audiovisual, Fotografía Profesional, Diseño Gráfico, Producción Radial, Asesoría Publicitaria
Founded:2006
Company size:1-10 employees
Industry:Marketing And Advertising
Site:caramba-marketing.co.uk
Description:An independent, creative marketing consultancy. We have a broad team of experienced people working with us from account handlers, designers and marketing strategists through to illustrators and web...
Company size:11-50 employees

Hamelacha 14 St, Ra'Anana, Israel, Israel
Industry:Internet
Site:carambo.la
Description:Carambola is a new publisher platform that offers multiple content enrichment and monetization products. Through our patent pending technology, we create brand safe engaging content across all...
Specialties:advertising, content enrichment, Video monetization, native advertising
Founded:2011
Company size:11-50 employees

Main Street, Padbury, Buckingham, Bucks, United Kingdom
Industry:Food & Beverages
Site:carambaoliveoil.com
Description:Our company "Caramba! Olive Oil" is based on the belief that our customers want to enjoy a great tasting, healthy, gourmet balsamic vinegar and extra virgin olive oils directly from the producers -...
Specialties:Gourmet olive oil and aged balsamics, Hampers, Foodie Gifts, Mediterranean condiments, Flavoured oils
Founded:2010
Company size:Myself Only
Unit B5, Annacotty Business Park, Dublin Road, Limerick, Ireland
Industry:Primary/secondary Education
Site:carambola.ie
Description:Carambola supplys healthy lunches to school children. We supply school books and stationary to schools. We provide educational training to parents, staff and children on help them to eat right, move...
Company size:51-200 employees
Industry:International Trade And Development
Site:caramba.com
Description:International Trade Development including domain development and monetization. Data, commentary, analytics and venture capital assistance, specializing in valuation and innovation. Staying close to...
Founded:2003
Company size:1-10 employees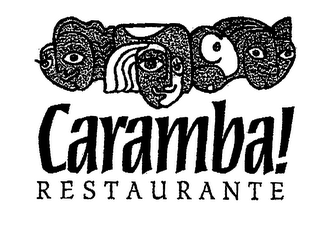 Status:Inactive
Registration:May 7, 2002
State ID:76404261
Status:604 - abandoned - after inter-partes decision
Status date:Sep 8, 2004
Illustration:Drawing or design which also includes word(s)/ letter(s)/number(s)
Attorney:George C. Rondeau
Employee:Ira J Goodsaid
Goods & Services:"restaurante", Retail gift shops featuring souvenir clothing and packaged foods, Restaurant services, namely, restaurants featuring primarily mediterranean style cuisine, "caramba!" is an exclamatory ...
Owner:Caramba Restaurante Inc
Correspondent:Kevin S. Costanza
SEED IP LAW GROUP PLLC
701 Fifth Avenue Suite 6300, Seattle, WA 98104