2, Rue Des Salins, L'Oasis, Casablanca, Morocco
Industry:Research
Site:capmission.com
Description:Cap Mission est une société innovante qui a pour but de fournir des services d'excellence dans l'éducation.
Nous fournissons des services éducatifs de haut de gamme en utilisant des mécanismes...
Specialties:Apprentissage, Soutien scolaire
Founded:2014
Company size:1-10 employees
7, Rue Oued Makhazine, Tetouan, Morocco
Industry:Real Estate
Site:capnordproperty.com
Description:Morocco Real Estate Agency specializing in the city of Tetouan and its coast.
Our main services are:
Sale of land for development
Sale of historic medina property
Sale of coastal...
Specialties:new development commercialization, coastal properties, medina properties, land, luxury real estate, ...
Founded:2011
Company size:1-10 employees
Cap Mode Building, Grombalia, Nabeul, Tunisia
Industry:Retail
Description:Cap Mode is a Retail company located in Cap Mode Building, Grombalia, Nabeul, Tunisia.

815 Route Du Rosay, Saint-Férréol, France, France
Industry:Printing
Site:cap-mer-montagne.com
Description:Au départ, crée par un passionné de sports il y a 20 ans, CAP s'est petit à petit développé pour devenir LA référence alpine des visuels Outdoor.
La philosophie CAP, c'est de privilégier la...
Specialties:impression numérique, impression sérigraphique, Réalisation de visuels outoor & indoor, Installation de visuels sur événements, Stockage des éléments visuels
Founded:1995
Company size:11-50 employees

26 Pembroke Street Upper, Dublin 2, Ireland
Industry:Investment Management
Site:capmanda.com
Description:Based in Cork & Dublin Cap Mergers & Acquisitions is a boutique corporate finance advisory firm providing advice to corporate and private buyers in the areas of business disposals, acquisitions and...
Specialties:mergers, acqusitions tax
Company size:1-10 employees
Industry:Retail
Site:capncork.com
Description:Reatil Liquor Stores
Company size:51-200 employees

11 Rue Maurice Roy, Bourges, Cher, France
Industry:Leisure, Travel & Tourism
Site:capmystere.com
Description:DES VOYAGES À DESTINATION MYSTÈRE
...Remplissez notre questionnaire en ligne, dites nous vos envies, vos contraintes, racontez nous vos meilleurs et pires souvenirs de voyages...
Cap...
Specialties:Voyage sur mesure créé à votre image, Destination mystère adapté à votre profil, Expérience inédite avec en fil rouge le suspense, Voyage durable et responsable
Founded:2014
Company size:1-10 employees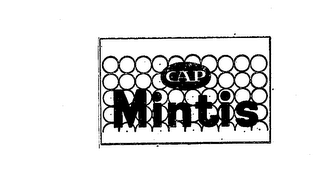 Status:Inactive
Registration:Jul 2, 1963
State ID:72172289
Reg. number:0794872
Status:900 - expired
Status date:Nov 24, 1985
Illustration:Drawing or design which also includes word(s)/ letter(s)/number(s)
Goods & Services:The word "mintis" is disclaimed apart from the mark as shown., Mint candies
Owner:Cap Aktiebolag