Level 9, 5 Elizabeth Street, Sydney, Nsw, Australia
Industry:Accounting
Site:camphinboston.com.au
Description:Our team is headed by three experienced partners with decades of experience and a wealth of knowledge across a range of industry sectors including agriculture and mining exploration, fruit and...
Specialties:Accounting services, Audit & assurance, Business advisory, Doing business in australia, Goods/services & other tax, ...
Founded:1985
Company size:11-50 employees
925 W Georgia St, Vancouver, British Columbia, Canada
Industry:Venture Capital & Private Equity
Site:camphor.com
Description:Camphor.com is your first and best source for all of the information you're looking for. From general topics to more of what you would expect to find here, camphor.com has it all. We hope you find...
9Saville St, Malton, North Yorkshire, United Kingdom
Industry:Mental Health Care
Site:cvt.org.uk
Industry:Individual & Family Services
Site:camphillkimberton.org
Description:Camphill Village Kimberton Hills is a farming and handcrafting community that includes adults with developmental disabilties.
Company size:1-10 employees
Industry:Professional Training & Coaching
Site:camphireproject.com
Description:CampHire Brings education and entrepreneurship to refugee camps.
Three ways we unlock potential
Education
Refugees will learn the skills needed to found, develop and manage a business. ...
Founded:2013
Company size:1-10 employees
Industry:Education Management
Site:camphilstudy.com
Description:Collaboration between two countries of Cambodia and Philippines toward helping each country in the areas of education, business and rich cultural sharing.
If you are a Cambodian Private College...
Specialties:Study abroad, Education, Consulting, Elearning
Founded:2012
Company size:1-10 employees
Industry:Publishing
Site:camphorpress.com
Description:Camphor Press is a small publishing house focused on Taiwan and the wider East Asia region. We select the very best English writing about the island we love, and bring that great writing to a broader ...
Specialties:English books about taiwan and the surrounding region
Founded:2014
Company size:1-10 employees
Industry:Management Consulting
Site:camphoraconsultants.com
Description:Camphora Consultants is a management consulting company dedicated to provide state-of-art consulting and training service for companies in Asia. Based on our special approach to customize solution to ...
Company size:1-10 employees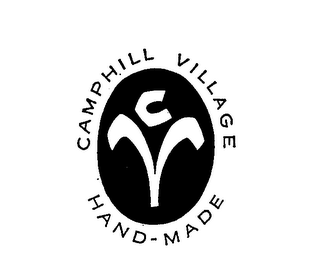 Status:Inactive
Registration:Oct 5, 1964
State ID:72203255
Status:900 - expired
Status date:Feb 23, 1986
Illustration:Drawing or design which also includes word(s)/ letter(s)/number(s)
Goods & Services:The term "hand-made" is disclaimed apartfrom the mark as shown., Novelties, decorative items and souvenirs in the nature of trays, plates, coasters, dolls, and wheels
Owner:Camphill Village, U.s.a. Inc

90/9 Dcondo Onnut-Suvarnabhumi, Latkrabang Road, Latkrabang, Latkrabang, Bangkok, Thailand
Industry:Information Services
Site:CampHUB.in.th
Description:CampHUB is a news website for thai student who interested the camp that organized by university's student. CampHUB provides camp news, description, and more service such as instant application form...
Specialties:Education, Camp
Founded:2012
Company size:1-10 employees