Industry:Marketing And Advertising
Site:campelloplaya.es
Description:Nos dedicamos al desarrollo de actividades de ocio y tiempo libre. Además publicamos en nuestro blog noticias relacionadas con El Campello (Alicante).
Actividades relacionadas con el turismo,...
Specialties:vida sana, publicidad pequeño comercio, ocio espectaculos, servicios turísticos
Founded:2011
Company size:Myself Only
Industry:Management Consulting
Site:cbabv.nl
Description:Projectmanagement, advieswerkzaamheden en interim-opdrachten in vnl productie organisaties
Company size:1-10 employees
Industry:Health, Wellness And Fitness
Site:campenmd.com
Industry:Professional Training & Coaching
Site:campengroupinc.com
Description:Can you think of something that you want to improve either personally or in your organization? We can relate. We ask the important questions that guide you to the answers you need. Campen Group, Inc...
Specialties:Leadership, Company Culture Transformation, Executive Coaching, Service Excellence, Performance Improvement
Founded:1996
Company size:1-10 employees
Industry:Machinery
Site:campen.dk
Description:CAMPEN Machinery A/S was founded in 1942 by Mr Peer Campen under the name P. CAMPEN Maskinfabrik A/S and is today a subsidiary of the Danish VARO group of companies. The company has learned valuable...
Company size:51-200 employees
Industry:Hospitality
Site:campeole.com

8Trium, T1-6-08, Tower 1, Lot 62539, Jalan Cempaka Sd12/5,, Bandar Sri Damansara,, Kuala Lumpur, Wilayah Persekutuan, Malaysia
Industry:Events Services
Site:campeon.com.my
Description:Campeon – Pronounced Kum-Pee-Yun, can be defined as the Spanish word for Champion. Here at Campeon events, we pride ourselves with being your one-stop shop for event management and solutions.
We...
Specialties:International Trade Fairs, Event Consultancy & Planning, Exhibition Booths & Interior Design, Roadshows, Launches & Anniversaries, Conferences & Events Management, ...
Founded:2011
Company size:1-10 employees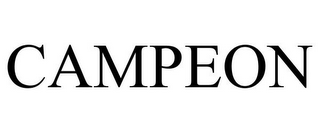 Status:Inactive
Registration:Apr 28, 2006
State ID:78871890
Status:602 - abandoned-failure to respond or late response
Status date:Jul 5, 2008
Illustration:4000
Employee:James W Macfarlane
Goods & Services:Pre-paid telephone calling cards, not magnetically encoded, The foreign wording in the mark translates into english as champion.
Owner:T & T, Lc
Status:Inactive
Registration:Sep 26, 1963
State ID:72177779
Reg. number:0769171
Status:900 - expired
Status date:Aug 5, 1984
Illustration:Typeset: Word(s)/letter(s)/number(s)
Goods & Services:Mattresses and box springs
Owner:Eclipse Sleep Products, Inc, 36 Milford St.