Industry:Real Estate
Site:MaryLouGray.com
Description:Looking to purchase or sell Real Estate this is the company to check out!
Company size:11-50 employees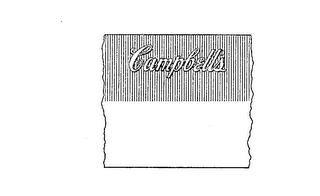 Status:Inactive
Registration:Jan 7, 1965
State ID:72209486
Reg. number:0805696
Status:900 - expired
Status date:Jan 7, 1989
Illustration:Drawing or design which also includes word(s)/ letter(s)/number(s)
Goods & Services:Canned ready-to-serve soups, The drawing is lined for red., Campbells
Owner:Campbell Soup Company
Industry:Marketing And Advertising
Site:thecampbellspr.com
Description:In short: we are a communications firm for the contemporary culture industries. We craft the ideas, words and images to connect your brand effectively to your market
In long...
This is the...
Specialties:copywriting, public relations, social media marketing, advertising, branding
Company size:1-10 employees
Po Box 884, Floor 4, Willow House, Cricket Square, Grand Cayman, Cayman Islands
Industry:Law Practice
Site:campbellslegal.com
Description:Campbells have been leading the way for over 40 years, advising both local and international clients on Cayman Islands and British Virgin Islands law. We are regularly trusted to advise some of the...
Specialties:Insolvency & Restructuring, Investment Funds, Corporate & Commercial, Dispute Resolution, Insurance, ...
Company size:51-200 employees
Site:campbells-cabinets.ca
Phone:(905) 628-6643, (905) 628-8084 (Fax)
Member:Mr George Campbell (Owner)
Categories:Home Improvements, Carpenters, Cabinet Maker
Phone:(613) 968-5791, (613) 968-8221 (Fax)
Member:Richard J. Macdonald (President)
Categories:Auto Body Repair & Painting
Phone:(807) 623-7325
Member:Customer Service Manager
Categories:Auto Repair & Service
Industry:Real Estate
Site:campbell-online.co.uk
Description:Campbells serves a growing number of property buyers, sellers and landlords who truly appreciate the benefits of having a small, committed team of property experts behind them.
Set up by...
Specialties:Property sales, property management, property purchase, landlord 'turn key' service, negative equity (short sale)
Founded:1989
Company size:1-10 employees
Industry:Management Consulting
Site:elspethcampbell.com
6-8 York Mews, London, United Kingdom
Industry:Design
Site:campbellrigg.com
Description:Campbellrigg is one of the UK's leading design agencies trading across Europe and the near East with ambitions to move into the Middle East and Far East markets. This year we are proud to celebrate 30...
Specialties:Corporate branding, Retail brand envionments, Brand activation programmes, Multi channelled platforms for retail markets, Finance, Food, Non Food, Drinks, Beverages, ...
Company size:11-50 employees

Friars Bridge Court, 41-45 Blackfriars Road, London, United Kingdom
Industry:Civil Engineering
Site:campbellreith.com
Description:CampbellReith is one of the UK's leading engineering design practices. It provides structural, civil, geotechnical, environmental and transportation engineering services.
Established in 1960,...
Specialties:Structural Engineering, Civil Engineering, Environmental Engineering, Geotechnical Engineering, Transportation Engineering, ...
Founded:1960
Company size:51-200 employees
44 High St, Pewsey, Wiltshire, United Kingdom
Industry:Real Estate
Description:CAMPBELLPROPERTY UK LIMITED is a Real estate company located in 44 High St, Pewsey, WILTSHIRE, United Kingdom.
Industry:Education Management
45 Pont Street, London, United Kingdom
Industry:Hospitality
Site:campbellgrayhotels.com
Description:CampbellGray Hotels is a privately owned company which is focused on creating and operating highly individual hotels. Its goal has always been to achieve the very highest standards and to be the...
Specialties:Hotel Development, Hotel Management
Company size:501-1000 employees