Industry:Furniture
Site:stfsedie.it
Industry:Internet
Site:campanjo.com
Description:Cross-media technology experts focussed on delivering high-end user-centered e-products. From websites, development, 1to1 campaign delivery and cross-media to web hosting, cloud servers & domain...
Specialties:Websites, 1to1, Webdevelopment, Campaigns, Cross-media, ...
Founded:2013
Company size:1-10 employees
Industry:Hospitality
Site:campanile.com
Description:Campanile Vilnius Airport Hotel
Minsko pl. 14, Vilnius LT-02121
Tel.:+370 5 203 2282
Fax.:+370 5 203 2281
www.campanile.com
Opening in December 2013
Looking for the...
Specialties:Hotel, Restaurant, Conference Rooms
Founded:2013
Company size:11-50 employees
Industry:Newspapers
Site:thecampanil.com
Description:The Campanil is the only student-run, multi-platform news organization at Mills College, a private liberal arts institution located in Oakland, California. The print newspaper is produced every two...
Company size:11-50 employees

Industry:Civic & Social Organization
Site:campanions.co.uk
Description:Campanions Community Interest Company was set up in May 2009 by it's co-driectors Tony and Suzie.
Our mission is to run residential and activity day Camps for children, young people and...
Company size:1-10 employees
Industry:Marketing And Advertising
Site:google.com, idtf=118166519200959655933

Sveavägen 17, Stockholm, Sweden
Industry:Information Technology And Services
Site:campanja.com
Description:Campanja delivers the paid search industry's most advanced SEM bidding engine. By combining big data modeling and automated, high-frequency trading, we help high-volume advertisers eliminate...
Specialties:Search Engine Marketing, SEM, Adwords, PPC, paid search, ...
Founded:2009
Company size:11-50 employees
Industry:Hospitality
Site:campanile-breda.nl
Description:Met zijn eigen restaurant en bar is uw 3-sterrenhotel gericht op een aangenaam en comfortabel verblijf. Er is in een gratis parkeerplaats voorzien, en het hotel is zeer toegankelijk voor...
Specialties:Hotel, Restaurant, Meetingrooms
Company size:11-50 employees

Parkstrasse 8, Ostermundigen - Bern, Switzerland
Industry:Real Estate
Site:campaniello-property.com
Description:Campaniello Property's portfolio includes exclusive real estate and investment property.
With us, you benefit from professional service as well as individual customer service on site. Perfect...
Specialties:Real Estate, Land Plots, Hospitality, Commercial Properties, Investments
Founded:2013
Company size:1-10 employees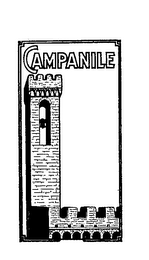 Status:Inactive
Registration:Apr 22, 1966
State ID:72244102
Reg. number:0832273
Status:900 - expired
Status date:Oct 18, 1987
Illustration:Drawing or design which also includes word(s)/ letter(s)/number(s)
Goods & Services:Edible olive oil, The lining shown in the drawing is an actual part of the mark and does not represent color., The english translation of the italian word "campanile" is "small belfry."
Owner:A. Giurlani & Bro

1788 Nanjing West Road, Shanghai, China
Industry:Management Consulting
Site:campanileconsulting.com
Description:Campanile Consulting is a team of committed management consultants and trainers in China and the European Union. Since 2004, we have provided management teams with strategic advice and training in...
Specialties:Strategy to Action, Leadership Skills & Systems, Problem Solving Teams, Predictive Index - PI, Team Performance Assessment
Founded:2004
Company size:1-10 employees