Status:Inactive
Doing business as:Cambridge at 25th, Ltd
Phone:(519) 650-5997, (519) 650-0437 (Fax)
Member:Riaz
Categories:Auto Dealers - Used Cars
Industry:Real Estate
Site:cambridgeatcollegestation.com
Saint Neots, United Kingdom
Industry:Industrial Automation
Description:CAMBRIDGE AUTOMATION LIMITED is an Industrial Automation company located in Saint Neots, United Kingdom.
Industry:Real Estate
Site:thecambridgestrategy.com

Gallery Court, Hankey Place, London, United Kingdom
Industry:Consumer Electronics
Site:cambridgeaudio.com
Description:A shining British success story, Cambridge Audio was founded in 1968 and acquired by Audio Partnership in 1994. Cambridge Audio is best known for its award-winning hi-fi, home cinema and speaker...
Founded:1994
Company size:51-200 employees
2 Townsend Mews Wilburton, Ely, Cambs, United Kingdom
Industry:International Trade And Development
Description:CAMBRIDGE AUDIO VISUAL CONSULTANTS LIMITED is an International Trade and Development company located in 2 TOWNSEND MEWS WILBURTON, ELY, CAMBS, United Kingdom.
84 Herne Road Ramsey St Marys, Huntingdon, Cambs, United Kingdom
Industry:Construction
Description:CAMBRIDGE ASPHALT LTD is a Construction company located in 84 HERNE ROAD RAMSEY ST MARYS, HUNTINGDON, CAMBS, United Kingdom.
Industry:Government Administration
Site:cambridgeassociates.com
Industry:Civic & Social Organization
Site:cambridgebailcircle.org.uk
Description:Cambridge Bail Circle is a voluntary organisation which seeks to help refugees get bail from the detention centres at Oakington near Cambridge and Yarls Wood near Bedford.
Company size:Myself Only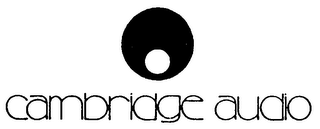 Status:Inactive
Registration:Aug 7, 1989
State ID:73817802
Status:602 - abandoned-failure to respond or late response
Status date:Feb 15, 1991
Illustration:Drawing or design which also includes word(s)/ letter(s)/number(s)
Attorney:Lawrence E. Abelman
ABELMAN FRAYNE REZAC & SCHWAB
708 Third Avenue, New York, NY 10017
Employee:Gerald T Glynn
Goods & Services:"audio", The mark comprises "cambridge audio" and a stylized design of eccentric circles., Sound reproducing apparatus; namely amplifiers, pre-amplifiers, tuners, compact disc players, digital audio...
Owner:Cambridge Auduo Systems International Ltd
Registration:Jan 1, 1992
Phone:(519) 740-8183, (519) 622-2443 (Fax)
Members (2):Cliff Engler (Manager)
Joe Graci
Categories:Auto Body Repair & Painting

Coffs Harbour, New South Wales, Australia
Industry:Airlines/aviation
Site:aircambridge.com
Description:Cambridge Aviation Private Limited is the group company which has Cambridge Aviation College, Cambridge Air Charters Pty. Limited, Air Cambridge Pty. Limited as its subsideries Cambridge Aviation...
Specialties:Air charter, Aviation college, Pilot training, Air cargo
Founded:2010
Company size:11-50 employees