Status:Inactive
Doing business as:Acla, LLC
Industry:Accounting
Site:WWW.ACLADESRL.COM.AR

Industry:Environmental Services
Site:aclagro.be
Description:- Civil contractor
- Environmental contractor
Company size:201-500 employees
Hungerford Road, East Grafton, Marlborough, Wiltshire, United Kingdom
Industry:Architecture & Planning
Site:ACLA-ltd.com
Description:ACLA Ltd has over 20 years experience in landscape architecture, landscape planning and environmental design. We have designed & managed a wide range of projects including landscape and visual impact...
Specialties:Landscape architects, Landscape Architect, Landscape Design, Garden Design, Landscape planner, ...
Founded:2009
Company size:1-10 employees
Industry:Management Consulting

Consell De Cent 201, Barcelona, Barcelona, Spain
Industry:Retail
Site:aclam.cat
Description:Aclam is a business group with different lines of activity: Aclam Foto, Aclam Guitars, Aclam Club and Aclam Records.
Aclam foto rents professional photographic and DSLR video equipment with a...
Specialties:Alquiler material fotografíco, Plató Fotográfico, Laboratorio de revelado en blanco y negro, Diseño de productos para guitarras, Estudio de grabación
Founded:2009
Company size:11-50 employees
Industry:Management Consulting
Site:aclaimafrica.com
Description:ACLAIM Africa Limited is a management consultancy and training company, founded and registered in Uganda in 1995, with a vision to enable people to lead and manage their organisations effectively...
Company size:11-50 employees

Industry:Architecture & Planning
Site:aclaworks.com
Description:Acla:works is an architectural firm capable of providing a full range of architectural services. the firm is also capable of providing a broad range of specalised services through established...
Specialties:architecture, sustainable design, interior design, BIM
Founded:1944
Company size:11-50 employees
Phone:(780) 962-6836
Categories:Water Filtration & Purification Equipment
Status:Inactive
Registration:Jul 10, 1959
State ID:72077457
Reg. number:0697317
Status:710 - cancelled - section 8
Status date:May 19, 2001
Illustration:1000
Goods & Services:Chlorine-bearing chemical compositions sold for use as sanitizing agents, deodorants, disinfectants, germicides, and bleaching agents, Acl 85
Owners (2):Monsanto Company
Monsanto Chemical Company 800 N. Lindbergh Blvd.,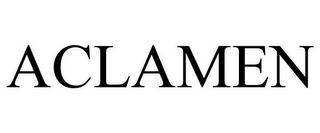 Status:Inactive
Registration:May 30, 2007
State ID:77192698
Status:606 - abandoned - no statement of use filed
Status date:Sep 19, 2011
Illustration:4000
Employee:Allison A Holtz
Goods & Services:Pharmaceutical preparations and substances for the treatment of infectious diseases, blood disorders, pain, inflammation, sepsis, alopecia and obesity, and for the treatment of viral, metabolic,...
Owner:Glaxo Group Limited
Industry:Insurance
Site:aclaimant.com
Description:Aclaimant is a software and services system designed to help manage incidents and injuries in the work place. Our Enterprise Incident Management System helps to reduce the drag on lag, by...
Founded:2013
Company size:1-10 employees