Doing business as:7767323 Canada Inc., 3057648 Ontairo Inc
Registration:Jan 7, 2008
Site:redflagsecurity.ca
Phone:(613) 799-1188
Member:Georges Fahd (Owner)
Categories:Security Systems Consultants, Surveillance Equipment, Sales & Service, Security Cameras, Security Control Equipment & System Monitors, ...
Doing business as:776846 Alberta Ltd
Registration:Jan 1, 1994
Site:ergosum.ca
Phone:(780) 439-8506, (780) 401-3532 (Fax)
Member:Sharon K. Taylor (Owner)
Categories:Ergonomics, Safety Consultants, Rehabilitation Services
Categories:Convenience Stores
Industry:Retail
Site:777apparel.com
Industry:Investment Management
Site:776capital.com
Description:776 Capital is an independent alternative investment manager specialized in providing financial solutions to qualified professional investors such as hedges funds, institutional, family offices and...
Company size:1-10 employees
Industry:Computer Software
Description:776369 Alberta Ltd is a Computer Software company located in Canada.
32 Russell Street, Harrogate, North Yorkshire, United Kingdom
Industry:Management Consulting
Description:777 ADVISORY LIMITED is a Management Consulting company located in 32 RUSSELL STREET, HARROGATE, NORTH YORKSHIRE, United Kingdom.
392 Upper Richmond Rd, London, United Kingdom
Industry:Oil & Energy
Site:777designavenue.com
Description:777 DESIGNS LTD is an Oil and Energy company located in 392 Upper Richmond Rd, London, United Kingdom.
777 Venbridge Lodge Cheriton Bishop, Cheriton Bishop, United Kingdom
Industry:Real Estate
Site:en.wikipedia.org
Description:777 CORPORATION LTD is a Real estate company located in 777 VENBRIDGE LODGE CHERITON BISHOP, Cheriton Bishop, United Kingdom.

832 Parker Street, White Rock, Bc, Canada
Industry:Accounting
Site:eccounting.ca
Description:Eccounting provides bookkeeping services for small business.
We offer a system that makes it easier than thought possible for business owners to stay up to date with all their paperwork.
At ...
Specialties:Bookkeeping, Payroll, Cra remmittances, Accounting advice
Founded:2010
Company size:1-10 employees
158 Beddington Lane, Croydon, Surrey, United Kingdom
Industry:Construction
Site:777group.com
Description:777 Group is a complete demolition service organisation which, since being formed in 1964, has steadily grown into a much-admired top ten tier leader in the sector.
We provide a range of...
Specialties:High rise & tower block demolition, Waste recycling, Asbestos surveys, removal & disposal, Dismantling, De-commissioning
Founded:1964
Company size:51-200 employees
Industry:Retail
Site:777auctions.net
Description:Triple Seven Auction Company proudly offers three generations of auction experience. We are committed to providing the highest level of professionalism and personalized service our customers can...
Company size:1-10 employees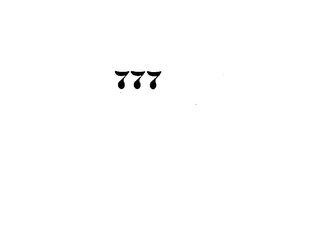 Status:Inactive
Registration:Sep 30, 1994
State ID:74580915
Status:601 - abandoned - express
Status date:Jun 5, 1997
Illustration:Drawing with word(s)/letter(s)/number(s) in Stylized form
Attorney:Karl M. Zielaznicki
Kane, Dalsimer, Sullivan, Kurucz, et al
711 Third Avenue, New York, NY 10017
Employee:Theresa Kaiser
Goods & Services:Cigarettes, pipe tobacco, hand-rolling tobacco, chewing tobacco, smoking tobacco, snuff, cigarette lighters not of precious metal or for land vehicles, and matches
Owner:Ardath Tobacco Company Limited