Status:Inactive
Member:Atascocita Associates, Llc (Director , Member, inactive)
Phone:(705) 424-5000
Categories:Heating & Air Conditioning
Industry:Information Technology And Services
Site:five5seven.com
Description:Start-up focusing on organic visualization of Big Data via mobile devices and the web. Founded by two researchers from the University of Cambridge with experience in statistics, signal processing,...
Specialties:Big Data, Visualization, Statistics, Signal Processing
Founded:2011
Company size:1-10 employees
Industry:Marketing And Advertising
Description:5555 Communications Inc. is a Marketing and Advertising company located in United States.

Industry:Online Media
Site:555tshirts.co.za
Description:555tshirts is about promoting businesses, promoting non-profit organizations, and most importantly, giving some money to good causes in South Africa.
How much money?
The goal is to give...
Specialties:social media, facebook, twitter, youtube, marketing, ...
Founded:2010
Company size:Myself Only

35 New Broad Street, London, United Kingdom
Industry:Broadcast Media
Site:555media.com
Description:555Media are based in London and have been involved in developing software and providing integrated mobile technology solutions since 2004.
We are leading specialists in Audio Watermarking which ...
Founded:2011
Company size:1-10 employees
Industry:Information Technology And Services
Site:555north.com
Description:IT Consulting and Custom computers. We provide all IT services. We build custom computers and repair all computers. We provide IT network installation and maintenance. Let us get you pointed in the...
Company size:1-10 employees

Blacktown, Sydney, Newsouthwales, Australia
Industry:Computer Software
Site:555digital.com
Description:555 Digital is a Interactive Digital Agency looking after your digital needs, social media, Web Maintenance. We analyse, research,provide suggestions and implement to improve your presence online and ...
Specialties:Web Designing, SEO, Online Marketing, Web Maintenance, Social Media
Founded:2011
Company size:1-10 employees
Industry:Internet
Site:559magazine.com
Description:Www.559magazine.com
Company size:1-10 employees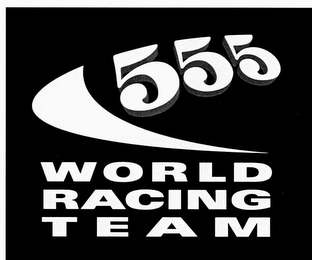 Status:Inactive
Registration:Dec 6, 2005
State ID:78767291
Status:606 - abandoned - no statement of use filed
Status date:Apr 25, 2008
Illustration:3000
Employee:Midge Fae Butler
Goods & Services:Color is not claimed as a feature of the mark., The mark consists of the stylized numbers 555, above a swoosh design with the words world racing team below it., Cigarettes, tobacco, The stippling is...
Owner:Ardath Tobacco Company Limited