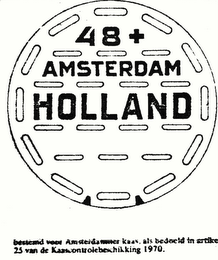 Status:Inactive
Registration:Mar 5, 1971
State ID:89000259
Status:969 - non registration data
Status date:Jan 8, 1985
Illustration:3000
Goods & Services:Official warranty mark, For cheese, Art. 6 ter paris convention
Owner:Government Of The Netherlands
Rejtana 3/27, Warsaw, Poland
Industry:Architecture & Planning
Site:plus48.com.pl
Description:The group has been active since 2006. Our activities range within the wide field of design: architectural planning, interior design, industrial design. Apart from these we are also involved in...
Specialties:Architecture, Master Planning, Urban Design, Building Consultancy, Development, ...
Founded:2006
Company size:11-50 employees
Industry:Marketing And Advertising
Site:48communications.com
Description:Who We Are – 48 Communications is an entertainment marketing firm that takes your brand and increases awareness around the world through a strategic mix of innovative opportunities. Our specialties in...
Specialties:Film & TV Product Placement, Grassroots Marketing, Lifestyle Marketing, Custom Event Programming, Brand Integration
Founded:2009
Company size:1-10 employees
Industry:Human Resources
Site:48congresoaedipe.com
Description:Con el lema "Transformar la energía en talento", el 48º Congreso Internacional Aedipe tendrá lugar los días 23 y 24 de octubre en Madrid.
El congreso de referencia en el mundo de los Recursos...
Founded:2014
Company size:501-1000 employees
Industry:Graphic Design
Site:4-8designs.com
Description:Self owned company, specializing in high end retouching (glamour, beauty, headshot) and logo/branding design, including postcards, stationary, mailers and brochures. Please visit our website...
Founded:2008
Company size:Myself Only
2Nd Floor, 17 Hanover Square, London, Greater London, United Kingdom
Industry:Staffing And Recruiting
Site:48digital.co.uk
Description:48 Digital is the 100% digital focused arm of specialist recruitment leader ITHR Group plc. We put incredible people together with amazing employers. 48 Digital was forged in the fires of the new...
Specialties:Digital, Recruitment, Project Managers, Developers
Founded:2011
Company size:1-10 employees
Industry:Banking
Site:48doors.com
Description:We are a small private lending firm in the heart of Dallas, TX. We finance residential real estate deals for investors. We're a really good source for short-term financing. If you know anyone with a...
Specialties:Private Lending, Short Term Loans, Asset Based Lending, Real Estate
Founded:2013
Company size:1-10 employees
Industry:Media Production
Site:48frames.co.uk
Description:Media Production company offering video services throughout Europe. We specialise in the development, production and post production of a range of services including Music Videos, Corporate Videos,...
Specialties:Wedding Videography, Music Video Production, Wedding Photography, Corporate Video Production, Showreel Production, ...
Founded:2013
Company size:1-10 employees