900 N Main St., Summerville, SC 29483
Industry:Real Estate Agents, Weight Loss Programs
Registration:2014
Site:healthcoachsmith.com
Phone:(843) 737-2689
Description:I assist clients to sell and buy residential real estate.
Member:Yeadon Smith
Licensed:Yes
Service area:Licensed statewide throughout South Carolina, specializing in the Charleston area market. This includes Charleston, Dorchester, & Berkeley Counties.
Senior discount:No
Excluded services:Ask for details.
Warranties:Satisfaction
Open Hours:Mon 08.30 AM - 05.30 PM, Tue 08.30 AM - 05.30 PM, Wed 08.30 AM - 05.30 PM, Thu 08.30 AM - 05.30 PM, Fri 08.30 AM - 05.30 PM, ...
Industry:Hospital & Health Care, Pediatric Optometrist
Site:eyewear-greenville.com
Phone:(864) 762-4226
Description:Yeager Vision Care is a Hospital and Health Care company located in 2304 W Parker Rd, Greenville, South Carolina, United States.
Addresses:2304 W Parker Rd, Greenville, SC 29617
2304 Wt Parker Rd, Greenville, SC 29617
Member:Cynthia Yeager
Licensed:Yes
Open Hours:Mon-Fri 8:30 AM-5:00 PM
2304 W Parker Rd, Greenville, SC 29617
Categories:Optical Goods Retail, Optometrists, Physicians & Surgeons
Site:yeagervisioncare.com
Phone:(864) 246-0964
In business since:1997
Products:Pediatric Eye Exams
Additional:Comprehensive Eye Exams, Treatment Of Eye Diseases, Contacts And Glasses, Serving The Community For Over 10 Years
2304 W Parker Rd, Greenville, SC 29617
Industry:Ret Optical Goods
Phone:(864) 246-0964
Members (3):Kenneth Yeager (Owner)
Kasey E. Holcombe (Receptionist Secretary)
Cynthia D. Wike (Od, inactive)
1402 Mill Pond Rd, Conway, SC 29527
Categories:Liquor Stores
Phone:(843) 248-3131
Industry:Repair Services
Doing business as:Yeager Building Renovations & Repairs
Registration:Nov 30, 2010
Addresses:284 Sammons Raod, Taylors, SC 29687 (Physical)
284 Sammons Rd, Taylors, SC 29687
Business type:Domestic
Formation place:SOUTH CAROLINA
Member:Norman Yeager (Principal)
Agent:Norman T. Yeager
209 Berrow Way, Taylors, SC 29687
Registration:Jun 11, 1999
Business type:Domestic
Formation place:SOUTH CAROLINA
Expiration:12/31/2049
Agent:Cynthia Yeager
109 Fox Street, Gilbert, SC 29054
Phone:(803) 892-3052, (803) 892-3052 (Fax)
Member:Julie Yeager
Categories:Accountants-Certified Public
532 Sulphur Springs Rd, Greenville, SC 29611
Registration:Jan 1, 1995
Business type:Domestic
Formation place:SOUTH CAROLINA
Agent:Kenneth A Yeager Jr
8 Rosedale Dr, Charleston, SC 29407
Industry:Medical Doctor's Office
1022 Meadowlark Drive, Rock Hill, SC 29732
Status:Inactive
Industry:Lawn/Garden Services
Registration:May 6, 2005
Business type:Domestic
Formation place:SOUTH CAROLINA
Member:James R. Yeager (Principal, inactive)
141 Beechwoods Dr, Lexington, SC 29072
Status:Inactive
Industry:Electrical Contractor
Registration:Apr 8, 1997
Business type:Domestic
Formation place:SOUTH CAROLINA
Expiration:11/29/2004
Member:John M. Yeager (President)
Agent:John M Yeager
12 New Orleans Road, Hilton Head Island, SC 29938
Status:Inactive
Registration:Mar 20, 2006
Business type:Domestic
Formation place:SOUTH CAROLINA
Expiration:07/10/2014
Agent:Bruce C. Yeager Jr
Status:Inactive
Registration:Apr 26, 1990
Business type:Domestic
Formation place:SC
Expiration:12/31/2007
Agent:Tim Yeager
Status:Inactive
Registration:Aug 20, 1979
Business type:Domestic
Formation place:SC
Expiration:02/17/1989
Agent:W E Yeager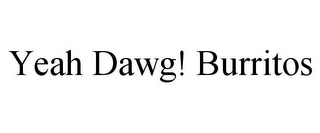 Status:Inactive
Registration:Aug 1, 2011
State ID:85386291
Status:606 - Abandoned - no statement of use filed
Status date:Oct 15, 2012
Illustration:Drawing with word(s)/letter(s)/number(s) in Block form
Attorney:Natalie D. Potter
CAUDLE & SPEARS, PA
121 W Trade St Ste 2600, Charlotte, NC 28202
Employee:Rebecca A Smith
Goods & Services:"burritos", Restaurant and bar services
Owner:Yeah Dawg! Burritos, Llc, 1057 Silver Gull Dr., Fort Mill, SC 29708