1213 Penn Ave, Reading, PA 19610
Industry:Beauty Shop
Doing business as:It's All The Rage Hair Designs
Site:itsalltheragehairdesigns.com
Phone:(610) 375-0816, (610) 816-8108 (Alt)
Description:It's All the Rage Hair Designs. Full Service Salon Specializing in Color. Walk-ins Welcome, Make-up Application, Certified Hair Extensions, Manicures, Pedicures, Waxing, Permanent Texturing, Color,...
Member:Elizabeth Goos (Owner)
Categories:Beauticians, Beauty Salons, Hair Care & Treatment, Hair Coloring & Tinting, Nail Care
Open Hours:Mon 10:00 AM-04:00 PM, Tue 10:00 AM-08:00 PM, Wed 10:00 AM-08:00 PM, Thu 10:00 AM-08:00 PM, Fri 10:00 AM-08:00 PM, ...
Specialties:Full Service Salon, Specializing In Color, Hair Extensions, Bridal & Prom Packages. MoroccanOil Loyality
Ownership:Female Owned, Locally Owned
In business since:2005
Areas served:Berks, Lancaster, Chester, Schuylkill
Customers served:Residential
Brands:It Works Products
Products:Accessories, Acrylic Nails, Beard & Moustache Trimming, Beauty Salons, Beauty Supplies, ...
Payment options:Discover, MasterCard, VISA
Languages:English
Certifications:Keratin Complex Certified, REDKIN Certified, TIGI Certified, Zumba Instruction Certified
Additional:Walk-Ins Welcome, Gift Wraped Packages
Categories:Dance Companies, Dance Studios
Phone:(412) 638-3997
Description:"IT'S ALL THE RAGE!" STUDIO 19 takes pride in giving our students the most professional dance instruction in developing their self-esteem, poise, and confidence. We guide their energy into setting...
Areas served:Allegheny
Customers served:Residential
Specialties:dance instruction
Products:After School Lessons, Ballet, Batons, Cha Cha, Child Care, ...
7101 Lincoln Dr, Philadelphia, PA 19119
Industry:Beauty Shop
Doing business as:Its All That Jazz Unisex Hair Salon
Phone:(215) 248-4667
Member:Charles Jones (Principal, inactive)
Categories:Beauty Salons
Products:Full Service Barber Shop & Beauty Salon
320 Crumlynne Rd, Ridley Park, PA 19078
Industry:Business Services at Non-Commercial Site
Member:W. K. Murray (Principal)
1558 Kuhlview Dr, Pittsburgh, PA 15237
Industry:Business Services at Non-Commercial Site
Member:Robert L. Regis (Principal)
1213 Resaca Pl, Pittsburgh, PA 15212
Industry:Business Services at Non-Commercial Site
Member:Bryant Kelly (Principal, inactive)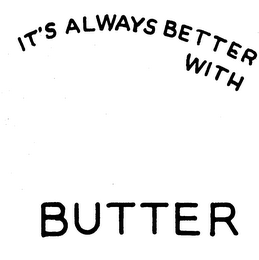 Registration:Jun 20, 1978
State ID:73175288
Reg. number:1144398
Status:800 - Registered and renewed
Status date:Mar 2, 2010
Illustration:Drawing with word(s)/letter(s)/number(s) in Stylized form
Attorney:Iii A. Yates Dowell
Goods & Services:Without surrendering any of its common law rights therein, applicant disclaims rights of exclusive appropriation in the word "butter" per se apart from the mark in its entirety., Butter, It is always ...
Owner:Beaver Meadow Creamery, Inc, 409 Maple Ave., Dubois, PA 15801
Correspondent:A Yates Dowell Iii
DOWELL & DOWELL, PC
Suite 220, Alexandria, VA 22314
120 Charles Ln, Hatboro, PA 19040
Status:Inactive
Industry:Business Services at Non-Commercial Site
Member:Erminio Petrecca (Principal, inactive)
1000 Ross Park Mall Dr, Pittsburgh, PA 15237
Status:Inactive
Industry:Ret Misc Apparel/Accessories
Member:Harry Colbert (Partner, inactive)
60 Brennan Dr, Rosemont, PA 19010
Status:Inactive
Industry:Single-Family House Construction
40 Poplar St, Scranton, PA 18509
Status:Inactive
Industry:Nonclassifiable Establishments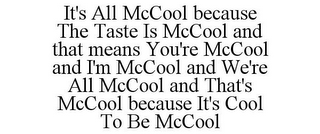 Status:Inactive
Registration:Feb 12, 2006
State ID:78812951
Status:602 - ABANDONED-FAILURE TO RESPOND OR LATE RESPONSE
Status date:Oct 2, 2007
Illustration:4000
Employee:Lourdes Ayala
Goods & Services:hamburger sandwiches, IT IS ALL MCCOOL BECAUSE THE TASTE IS MCCOOL AND THAT MEANS YOU ARE MCCOOL AND I AM MCCOOL AND WE ARE ALL MCCOOL AND THAT IS MCCOOL BECAUSE IT IS COOL TO BE MCCOOL
Owner:Ranganathan, Babu, G, 316 East Philadelphia Avenue, Boyertown, PA 19512
Jacksonville, FL · Moon Twp, PA · New York, NY
Status:Inactive
Registration:Jun 5, 1998
State ID:75500001
Reg. number:2325425
Status:711 - Cancelled - section 7
Status date:Nov 22, 2006
Illustration:Typeset: Word(s)/letter(s)/number(s)
Attorney:John B. Greenberg
911 Washington Avenue 7Th Floor, Saint Louis, MO 63101
Employee:Julie C Quinn
Goods & Services:Financial services, namely, real estate title and closing management services, real estate appraisal management and real estate information management, It is all right here
Owners (3):Lsi Title Company, 601 Riverside Avenue 12Th Floor, Jacksonville, FL 32204
Lender's Services, Inc, 700 Cherrington Parkway, Moon Twp, PA 15108
Merrill Lynch & Co., Inc, 250 Vesey Street, 34Th Floor, New York, NY 10281
Status:Inactive
Registration:Aug 20, 1996
State ID:75153303
Status:602 - Abandoned-failure to respond or late response
Status date:Nov 20, 1997
Illustration:Typeset: Word(s)/letter(s)/number(s)
Attorney:Fritz L Schweitzer Jr
SCHWEITZER CORNMAN & GROSS
230 Park Avenue, New York, NY 10169
Employee:Jeffrey J Look
Goods & Services:Clothing, Construction toys, It is all in your head let it out
Owner:Connector Set Limited Partnership, 2800 Sterling Drive, Hatfield, PA 19440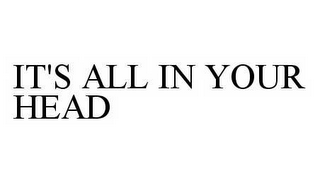 Status:Inactive
Registration:Apr 5, 2005
State ID:78602401
Status:602 - ABANDONED-FAILURE TO RESPOND OR LATE RESPONSE
Status date:Jun 6, 2006
Illustration:4000
Attorney:Kirk D. Houser
Employee:Dawn Feldman Lehker
Goods & Services:Hairdressing Services, IT IS ALL IN YOUR HEAD
Owner:Philip Pelusi Phytolink 4.0, Inc, 101 South Sixteenth Street, Pittsburgh, PA 15203