206 Governors Dr, Media, PA 19086
Industry:Real Estate Agent/manager
602 S 2Nd St, Philadelphia, PA 19147
Industry:Services-Misc
Member:Heather J. Kump (Principal)
Status:Inactive
Industry:Business Services At Non-Commercial Site
Addresses:222 Owl Hollow Dr, Tannersville, PA 18372
PO Box 505, Tannersville, PA 18372
Member:Howard Josephs (Principal, inactive)
115 Center Dr, Stroudsburg, PA 18360
Status:Inactive
Industry:Business Consulting Services, Business Services
Member:Louis Gangale (Principal, inactive)
1006 N 15Th St, Allentown, PA 18102
Industry:Local Passenger Transportation
Member:Jeffrey Hollis (Owner)
1068 Kasmir Ave, Bensalem, PA 19020
Status:Inactive
Industry:Business Consulting Services
129 W Washington Ln, Philadelphia, PA 19144
Industry:Business Services At Non-Commercial Site
Member:Joseph H. Hill (Principal)
301 S Warren St, Molino, PA 17961
Status:Inactive
Industry:Business Services, Trust Management
Doing business as:Hjjt Family LLP
50 N 4Th St, Reading, PA 19601
Industry:Business Services At Non-Commercial Site
3617 N 3Rd St, Philadelphia, PA 19140
Status:Inactive
Industry:Ret Groceries
Doing business as:Third & Segley Deli
Member:Louis Roman (Owner, inactive)
427 Piedmont Cir, York, PA 17404
Industry:Nonclassifiable Establishments
Industry:Mfg Canned Specialties, Membership Organization
Doing business as:H. J. Heinz Company
Heinz
H. J. Heinz Company of Pennsylvania
Registration:Dec 4, 2013
Phone:(412) 237-5198
Addresses:1 Ppg Pl, Pittsburgh, PA 15222
600 Grant St, Pittsburgh, PA 15219
PO Box 57, Pittsburgh, PA 15230
State ID:801893195
Business type:Foreign For-Profit Corporation
Entity State:TX
Members (46):Richard P. Beard (Vice President)
Bernardo Hees (CEO, Chairman)
Michael P. Mullen (Secretary, Vice President)
David Toy (Vice President)
Paulo P. Basilio (CFO, Chairman)
...
Agent:Serve Secretary Of State For Mailing To
15 Early Ln, Bellegrove, PA 17003
Status:Inactive
Industry:Business Services
Member:Harry Koller (Principal, inactive)
Status:Inactive
Registration:Jun 19, 1991
State ID:800622
Business type:Foreign Corporation
Pittsburgh, PA · Meridian, ID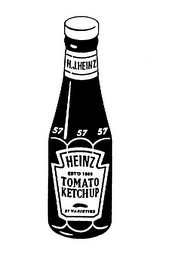 Registration:Aug 22, 1997
State ID:75345436
Reg. number:2233574
Status:800 - registered and renewed
Status date:Nov 11, 2008
Illustration:3000
Employee:Barbara Anne Loughran
Goods & Services:"tomato ketchup", The mark consists of a two dimensional representation of applicant's ketchup bottle container and the product labels affixed thereto, which two dimensional representation is itself...
Owners (2):H. J. Heinz Company, One Ppg Place, Suite 3100, Pittsburgh, PA 15222
Promark Brands Inc, 2541 North Stokesberry Place, Suite 100, Meridian, ID 83642
HJL
(trademark)
Gardenville, PA
Status:Inactive
Registration:Mar 11, 2006
State ID:78835075
Reg. number:3198733
Status:710 - cancelled - section 8
Status date:Aug 23, 2013
Illustration:3000
Employee:Dezmon Mizelle Howard
Goods & Services:The mark consists of outline of a house encompassing the initials "hjl", shadowed by two additional house silhouettes suggesting a residential street. the mark is not in color., Real estate...
Owner:Homesjustlisted.com, Llc, 654 Old Pebble Hill Road, Doylestown, PA 18901