3822 Se Kentucky St, Bartlesville, OK 74006
Site:G-7trainingcenter.com
Phone:(918) 214-6861
Description:Quiet Mind. Dangerous body. Compassionate soul. G-7 Training Center is open for those who wish to better themselves through lectures and training on survival skills and reality-based martial arts.
Member:Mark Mark
Licensed:Yes
Categories:Training Programs & Services
Registration:Oct 31, 2008
State ID:3512210038
Business type:Domestic Limited Liability Company
Agent:Greg Gonzkow
1325 Herrick Rd, Beggs, OK 74421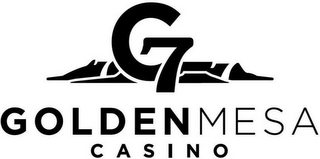 Registration:Feb 16, 2015
State ID:86536001
Status:680 - Approved for publication
Status date:Mar 11, 2015
Illustration:Drawing or design which also includes word(s)/ letter(s)/number(s)
Attorney:Joseph D. Fincher
Hall Estill Hardwick Gable Golden & Nels
320 S Boston Ave Ste 200, Tulsa, OK 74103
Employee:Kathleen Rus Jonge
Goods & Services:Color is not claimed as a feature of the mark., "casino", The mark consists of the words "goldenmesa" in block letters, with the word "golden" in a bolder font than the word "mesa," over the word...
Owner:The Chickasaw Nation, 520 E. Arlington Blvd., Ada, OK 74820
Status:Inactive
Registration:Sep 29, 2009
State ID:1912249172
Business type:Domestic For Profit Business Corporation
Agent:Wilfred Hemenway
3705 Canterbury, Muskogee, OK 74403
Status:Inactive
Registration:Mar 16, 1988
State ID:1900465719
Business type:Domestic For Profit Business Corporation
Agent:Candace M Johnson
4718 S Wheeling Ave, Tulsa, OK 74105