801 2Nd St, Monroe City, MO 63456
Industry:Machine Tools, Metal Forming Type
Phone:(573) 735-4577
Description:Machine Tool (Metal Forming Types) Manufacturing
Member:Carl Hays (CTO)
SIC:3542 - Machine Tools, Metal Forming Types
Company size:499
625 South Lakeshore Drive, Blue Springs, MO 64029
Site:ihscorp.com
Phone:(816) 804-7766, (816) 767-0070 (Fax)
SIC:9999 - Nonclassifiable Establishments
302 Campusview Dr, Columbia, MO 65201
Categories:Business Consultants & Advisors
Phone:(573) 443-0670
300 S Oak St, California, MO 65018
Categories:Physical Therapists
Phone:(573) 796-2188
1500 N Westwood Blvd, Poplar Bluff, MO 63901
Industry:Internist
Doing business as:Ihsan Haq MD,MBBS
Phone:(573) 778-4760
Member:Ihsan Ul Haq
Categories:Internal Medicine Physicians & Surgeons
Industry:Broadcast Media
Description:IHR Educational Broadcasting is a Broadcast Media company located in M Hwy, Moberly, Missouri, United States.
Registration:Nov 28, 2007
State ID:77339345
Reg. number:4425777
Status:700 - Registered
Status date:Oct 29, 2013
Illustration:Drawing with word(s)/letter(s)/number(s) in Stylized form
Attorney:Robert G. Lancaster
BRYAN CAVE LLP
211 N Broadway Ste 3600, Saint Louis, MO 63102
Employee:Steven W Jackson
Goods & Services:Color is not claimed as a feature of the mark., The mark consists of stylized text of the letters "ihybrid"., Heating and air conditioning systems comprising packaged air conditioning and heat pump...
Owners (2):Nordyne Llc, 8000 Phoenix Parkway, Saint Peters, MO 63366
Nordyne Inc, 8000 Phoenix Parkway, Saint Peters, MO 63366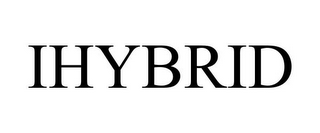 Registration:Nov 28, 2007
State ID:77339348
Reg. number:4425778
Status:700 - Registered
Status date:Oct 29, 2013
Illustration:Drawing with word(s)/letter(s)/number(s) in Block form
Attorney:Robert G. Lancaster
BRYAN CAVE LLP
211 N. Broadway, Saint Louis, MO 63102
Employee:Steven W Jackson
Goods & Services:Heating and air conditioning systems comprising packaged air conditioning and heat pump units and components, namely, compressors, pumps, motors, and blowers, I hybrid
Owners (2):Nordyne Llc, 8000 Phoenix Parkway, Saint Peters, MO 63366
Nordyne Inc, 8000 Phoenix Parkway, Saint Peters, MO 63366
10122 Tanbridge Rd, Saint Louis, MO 63128
Status:Inactive
Industry:Transportation Services
Member:Barry Mcclure (Principal, inactive)
Status:Inactive
Registration:Oct 31, 1977
State ID:00195663
Business type:Gen. Business - For Profit
Expiration:Perpetual
Agent:Terry R. Lewis
Hcr 32, Rolla, MO 65401 (Physical)
Status:Inactive
Registration:Aug 2, 1993
State ID:74419359
Reg. number:1831209
Status:710 - Cancelled - section 8
Status date:Apr 28, 2001
Illustration:Typeset: Word(s)/letter(s)/number(s)
Attorney:Paul M. Denk
763 South New Ballas Road, Saint Louis, MO 63141
Employee:Dominic J Ferraiuolo
Goods & Services:Software containing computer-based accounts receivable program
Owner:International Health Services, Inc, 1034 South Brentwood Blvd., Suite 500, Saint Louis, MO 63117
IHVAC
(trademark)
Columbia, MO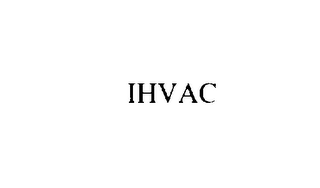 Status:Inactive
Registration:Dec 11, 1999
State ID:75869462
Status:606 - Abandoned - no statement of use filed
Status date:Oct 31, 2002
Illustration:Typeset: Word(s)/letter(s)/number(s)
Attorney:Jonathan P. Soifer
POLSTER, LIEDER, WOODRUFF & LUCCHESI
763 South New Ballas Road, Saint Louis, MO 63141
Employee:Ysa Dejesus
Goods & Services:Ventilation systems, namely heating, ventilation, and air conditioning units
Owner:Semco Incorporated, 1800 East Pointe Drive, Columbia, MO 65201