Industry:Career Coaches
Site:p3jobs.com
Phone:(630) 282-6125
Description:Trust only P3 Management for comprehensive talent acquisition, retention, and HR solutions that work. Contact us today in Streamwood, IL, for more information.
Member:Maureen Perkins
Open Hours:By Appointment
Licensed:Yes
Service area:Streamwood IL
3715 N Elston Ave, Chicago, IL 60618
Industry:Motion Picture/Video Production
Phone:(773) 588-5068
Member:Curtis Gilbert (President)
9033 Murphy Rd, Woodridge, IL 60517
Categories:Display Designers & Producers
Phone:(630) 226-1155
3425 W Irving Park Rd, Chicago, IL 60618
Categories:Motion Picture Editing Services, Multimedia, Used Trucks, Van Dealers
Phone:(773) 961-8619
205 W. Olive Ave., Prospect Heights, IL 60070
Industry:Business Services at Non-Commercial Site, Management Consulting Services
Registration:Dec 2, 2005
State ID:01694871
Business type:Domestic LLC
Expiration:Perpetual
Member:Denise A. Hopkins (Mem , Principal)
401 N Michigan Ave, 12Th Flr, Chicago, IL 60610
Industry:Internet
Site:seechicago.com
Description:P3 New Media is an Internet company located in 401 N Michigan Ave, 12th Flr, Chicago, IL, United States.
Arlington Heights, IL 60005
Registration:Mar 23, 2012
State ID:68378877
Business type:Domestic Bca
Expiration:Perpetual
Agent:Yordan Pargov
921 E Golf Rd 4, Arlington Heights, IL 60005 (Physical)
Curtis Gilbert 4821 W. Ainslie, Chicago, IL 60630
Registration:Feb 27, 2003
State ID:62729856
Business type:Domestic Bca
Expiration:Perpetual
Agent:Curtis John Gilbert
4821 W Ainslie, Chicago, IL 60630 (Physical)
Registration:Jul 6, 2015
State ID:70255588
Business type:Domestic Bca
Expiration:Perpetual
Agent:Robert C. Gates
301 Sw Adams St Ste 700, Peoria, IL 61602 (Physical)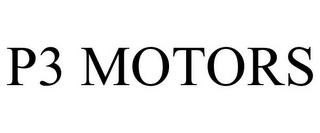 Registration:Aug 12, 2013
State ID:86035483
Reg. number:4696759
Status:700 - Registered
Status date:Mar 3, 2015
Illustration:Drawing with word(s)/letter(s)/number(s) in Block form
Attorney:Joseph T. Nabor
FITCH, EVEN, TABIN & FLANNERY, LLP
120 S Lasalle St Ste 1600, Chicago, IL 60603
Employee:Tracy L Cross
Goods & Services:"motors", Motors other than for land vehicles, P three motors
Owner:The Chamberlain Group, Inc, 845 Larch Avenue, Elmhurst, IL 60126
5752 W. Montrose, Chicago, IL 60634
Status:Inactive
Industry:Services-Misc
Doing business as:P3 Home Inventory Services
Registration:Jun 26, 2007
State ID:02252791
Business type:Domestic LLC
Expiration:Perpetual
Member:Priscilla D. Jesus (Principal)
Agent:Priscilla Jesus
5752 W. Montrose, Chicago, IL 60634 (Physical)
3 Elm Creek Drive, Elmhurst, IL 60126
Status:Inactive
Registration:Jan 20, 2005
State ID:01401424
Business type:Domestic LLC
Expiration:12/31/2055
Agent:John D. Malarkey
222 N. Lasalle Ste 1910, Chicago, IL 60601 (Physical)
317 S 14Th St, Saint Charles, IL 60174
Status:Inactive
Registration:Sep 20, 2007
State ID:02337452
Business type:Domestic LLC
Expiration:Perpetual
Agent:Janelle C Fulfs
317 S 14Th St, Saint Charles, IL 60174 (Physical)
539 Palace St, Aurora, IL 60506
Status:Inactive
Industry:Moving Services
Member:Pamela Kleinfeldt (Owner, inactive)
2S514 Iroquois Court West, Warrenville, IL 60555
Status:Inactive
Registration:Dec 27, 2005
State ID:01716549
Business type:Domestic LLC
Expiration:Perpetual
Agent:Jon H Freund
2S514 Iroquois Ct We, Warrenville, IL 60555 (Physical)
Status:Inactive
Registration:Sep 9, 2010
State ID:67563174
Business type:Domestic Bca
Expiration:Perpetual
Agent:Eddie Patel
4N310 Doral Dr, West Chicago, IL 60185 (Physical)
Status:Inactive
Registration:Oct 17, 2012
State ID:68644933
Business type:Domestic Bca
Expiration:Perpetual
Agent:Priscilla Jesus
5752 W Montrose, Chicago, IL 60634 (Physical)