10429 Geneva Dr, Roscoe, IL 61073
Phone:(815) 623-7747
Email:Sign in to view email
SIC:6541 - Title Abstract Offices
53 E Saint Charles Rd, Villa Park, IL 60181
Phone:(630) 782-8100
Email:Sign in to view email
SIC:5812 - Eating Places
Industry:Ret Used Merchandise, Used Merchandise Stores, Book Dealers-Used & Rare
Registration:Jul 1, 1985
Site:babbittsbooks.com
Phone:(309) 454-7393, (888) 875-3773
Addresses:119 E Beaufort St, Normal, IL 61761
104 E North St, Normal, IL 61761
Members (2):Brian Simpson (Owner)
Nancy Lohman (Manager, inactive)
SIC:5932 - Used Merchandise Stores
SIC6:593201 - Book Dealers-Used & Rare
Categories:Books - Used & Rare
Company size:2
1641 W Le Moyne St, Chicago, IL 60622
Industry:Advertising Agencies
Site:babblebee.com
Phone:(773) 235-4866
SIC:7311 - Advertising Agencies
Categories:Advertising - Newspaper
Company size:3
15255 S 94Th Ave, Orland Park, IL 60462
Industry:Business Services
Member:Paul Johnson (Principal)
Industry:Ret Used Merchandise, Book Dealers-Used & Rare
Doing business as:Babbitt's Books
Phone:(217) 352-7524, (217) 352-8134
Addresses:606 1/2 E Green St, Champaign, IL 61820
608 E Green St, Champaign, IL 61820
Members (2):Tim Mccoy (Owner)
Brian Simpson (Owner)
SIC:5932 - Used Merchandise Stores
SIC6:593200 - Retailer of used merchandise
Company size:5
Status:Inactive
Industry:Nonclassifiable Establishments, Ret Family Clothing
Site:babbletees.com
Phone:(815) 780-1953
Addresses:200 E High St #182, Hennepin, IL 61327
PO Box 182, Florid, IL 61327
Categories:T-Shirts
300 Highland Ave, Hoffman Estates, IL 60102
Status:Inactive
Industry:Nonclassifiable Establishments
Status:Inactive
Registration:Oct 13, 2004
State ID:63811653
Business type:Domestic Bca
Expiration:Perpetual
Agent:Aaron W Brooks
800 N Church St, Rockford, IL 61103 (Physical)
Status:Inactive
Registration:Jan 9, 1998
State ID:59757733
Business type:Domestic Bca
Expiration:Perpetual
Agent:Chester R Chostner Jr
1 Court Place Ste 202, Rockford, IL 61101 (Physical)
Status:Inactive
Registration:Aug 27, 2013
State ID:69142664
Business type:Domestic Bca
Expiration:Perpetual
Agent:Dale L. Babb
2371 N State Hwy 121, Latham, IL 62543 (Physical)
Status:Inactive
Registration:Nov 20, 2009
State ID:03195066
Business type:Domestic LLC
Expiration:Perpetual
Agent:Paul Johnson
15255 S 94Th Ave Ste 600, Orland Park, IL 60462 (Physical)
Status:Inactive
Registration:Feb 25, 1994
State ID:57695927
Business type:Domestic Bca
Expiration:Perpetual
Agent:Tracy M Oefellein
6204 E Hillside Rd, Crystal Lake, IL 60012 (Physical)
Status:Inactive
Registration:Jul 29, 1988
State ID:55171173
Business type:Domestic Bca
Expiration:Perpetual
Agent:D A Perdue
22 Plaza Drive, Fairview Heights, IL 62208 (Physical)
Status:Inactive
Registration:Oct 27, 2009
State ID:66732223
Business type:Domestic Bca
Expiration:Perpetual
Agent:Starla Hickman-Small
414 Prarie Ave, Alton, IL 62002 (Physical)
Status:Inactive
Registration:Dec 2, 2003
State ID:63228184
Business type:Domestic Bca
Expiration:Perpetual
Agent:Judd M Lofchie
10 S River St, Aurora, IL 60506 (Physical)
Status:Inactive
Registration:Apr 30, 2009
State ID:77726304
Status:606 - ABANDONED - NO STATEMENT OF USE FILED
Status date:Feb 6, 2012
Illustration:4000
Attorney:Charles A Demirjian
Employee:Giancarlo Castro
Goods & Services:"BABYWEAR", (Based on Use in Commerce) Baby bodysuits; Infant and toddler one piece clothing (Based on Intent to Use) Baby bibs not of paper; Baby bottoms; Baby bunting; Baby tops; Bibs not of cloth...
Owner:Dcc Marketing, Llc, 225 N. Water Street, Decatur, IL 62523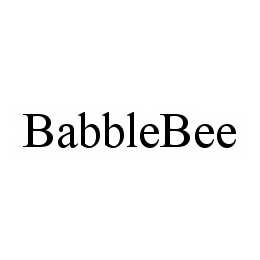 Status:Inactive
Registration:Oct 13, 2004
State ID:78499311
Reg. number:3020788
Status:710 - Cancelled - section 8
Status date:Oct 12, 2012
Illustration:Drawing with word(s)/letter(s)/number(s) in Block form
Attorney:David L. Bea
David L. Bea & Associates
30 W. Monroe St. Suite 800, Chicago, IL 60603
Employee:David T Murray
Goods & Services:Providing information via a global computer network in the field of business development and business networking, Babble bee
Owner:Babblebee, Inc, 1641 W. Lemoyne #3, Chicago, IL 60622

Status:Inactive
Registration:Apr 14, 2005
State ID:78608691
Status:602 - ABANDONED-FAILURE TO RESPOND OR LATE RESPONSE
Status date:Sep 5, 2006
Illustration:3000
Employee:Patricia Males Evanko
Goods & Services:"MUSIC", Online music service offering music downloads and CD purchases as well as fulfillment service offerings to independent music artists and labels, BABBLE TAP (MUSIC) PLUS (FREEDOM) EQUALS...
Owner:Switchnet, Inc, 790 W. Pine Ave, Roselle, IL 60172
Status:Inactive
Registration:May 2, 1983
State ID:73424015
Reg. number:1278574
Status:710 - Cancelled - section 8
Status date:Nov 4, 1992
Illustration:Typeset: Word(s)/letter(s)/number(s)
Attorney:Richard S. Phillips
Wood, Dalton, Phillips, Mason & Rowe
20 N. Wacker Dr., Chicago, IL 60606
Goods & Services:Heavy duty cleaner for equipment and facilities used in the processing of foods, dairy and meat products, pharmaceuticals and beverages, Babbright
Owner:Babson Bros. Co, 2100 S. York Rd., Oak Brook, IL 60521
Status:Inactive
Industry:Investor
Doing business as:Babbo Investment Inc
Registration:Dec 5, 2006
Addresses:Elmwood Park, IL 60707 (Physical)
2859 N Harlem Ave, Chicago, IL 60707
State ID:65251426
Business type:Domestic Bca
Expiration:Perpetual
Agent:Mario V Ventrella
2859 N Harlem Ave, Elmwood Park, IL 60707 (Physical)