Industry:Whol Farm Product Raw Materials
Doing business as:Ash's Bucktown Smoke Shop
Registration:Feb 26, 2009
Phone:(773) 384-9180
Addresses:Chicago, IL 60622 (Physical)
1573 N Milwaukee Ave, Chicago, IL 60622
State ID:66891259
Business type:Domestic Bca
Expiration:Perpetual
Member:Imran A. Khan (President)
Agent:Imran Khan
1573 N Milwaukee Ave, Chicago, IL 60622 (Physical)
Categories:Cigar Cigarette & Tobacco Dealers
4955 N Western Ave, Chicago, IL 60625
Industry:Ret and Mail Order Magic Goods & Novelty Costumes
Phone:(773) 271-4030
Member:Ashod Baboorian (Owner)
190 N Swift Rd, Addison, IL 60101
Categories:Cigar Cigarette & Tobacco Dealers
Phone:(630) 519-3366
16658 Crawford Ave, Harvey, IL 60426
Categories:Gas Stations
Phone:(708) 331-4147
3328 W 159Th St, Dixmoor, IL 60428
Industry:Gasoline Service Station
Member:Ashraf Zayed (Principal)
Registration:Jul 13, 2011
State ID:67836227
Business type:Domestic Bca
Expiration:Perpetual
Agent:Mark Michelini
655 Pheasant Ridge Dr, Lake Zurich, IL 60047 (Physical)
Registration:Sep 4, 2014
State ID:69788157
Business type:Domestic Bca
Expiration:Perpetual
Agent:Robert E. Kucaba
422 W Wesley St, Wheaton, IL 60187 (Physical)
Registration:Jun 14, 2015
State ID:70237199
Business type:Domestic Bca
Expiration:Perpetual
Agent:Atif S Haq
3N711 Rohlwing Rd Unit C, Addison, IL 60101 (Physical)
Registration:Apr 11, 2014
State ID:69409741
Business type:Domestic Bca
Expiration:Perpetual
Agent:Sabu A Philip
2560 E Church St, Des Plaines, IL 60016 (Physical)
16658 Crawford Ave, Country Club Hills, IL 60478
Status:Inactive
Industry:Gasoline Service Station
Phone:(708) 825-9116
Categories:Gas Stations, Service Stations
Status:Inactive
Registration:May 31, 2009
State ID:66951995
Business type:Domestic Bca
Expiration:Perpetual
Agent:Ashraf Zayed
3328 W 159Th St, Markham, IL 60428 (Physical)
Status:Inactive
Registration:Nov 27, 1989
State ID:55746656
Business type:Domestic Bca
Expiration:Perpetual
Agent:Mark D Olson
55 E Monroe St Ste 4100, Chicago, IL 60603 (Physical)
Status:Inactive
Registration:Mar 9, 2006
State ID:64736558
Business type:Not-For-Profit
Expiration:Perpetual
Agent:Laila Muhammad
400 Park Ave 709, Calumet City, IL 60409 (Physical)
Status:Inactive
Registration:Feb 4, 2009
State ID:66875938
Business type:Domestic Bca
Expiration:Perpetual
Agent:Ashraf Zayed
3328 W 159Th St Ste C, Markham, IL 60428 (Physical)
Status:Inactive
Registration:Feb 29, 2008
State ID:77409625
Status:606 - Abandoned - no statement of use filed
Status date:Nov 22, 2010
Illustration:Drawing or design which also includes word(s)/ letter(s)/number(s)
Attorney:David M. Abrahams
WEBSTER, CHAMBERLAIN & BEAN
1747 Pennsylvania Ave Nw Ste 1000, Washington, DC 20006
Employee:Jaclyn Kidwell Walker
Goods & Services:The color(s) blue, green, and grey is/are claimed as a feature of the mark., The mark consists of the literal element "asht" in blue, in which the representation of two touching hands are...
Owner:American Society Of Hand Therapists, 401 North Michigan Avenue, Chicago, IL 60611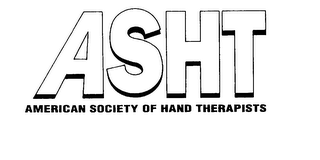 Status:Inactive
Registration:Nov 27, 2000
State ID:76171080
Reg. number:2552252
Status:710 - Cancelled - section 8
Status date:Jan 3, 2009
Illustration:Drawing with word(s)/letter(s)/number(s) in Stylized form
Attorney:Lisa Parker Gates
JENNER & BLOCK
1 E Ibm Plz, Chicago, IL 60611
Employee:Warren L Olandria
Goods & Services:Magazines, newsletters, and brochures in the field of hand therapy, Association services, namely, promoting the interests of persons in the field of hand therapy, and promoting the field of hand...
Owner:American Society Of Hand Therapists, 401 North Michigan Avenue, Chicago, IL 60611
Status:Inactive
Industry:Whol Farm Product Raw Materials
Doing business as:Ash's Tobacconist
Registration:Aug 5, 2010
Addresses:Chicago, IL 60622 (Physical)
1923 W Division St, Chicago, IL 60622
State ID:67540344
Business type:Domestic Bca
Expiration:Perpetual
Member:Basharath H. Mohammed (Owner, President)
Agent:Shack Aslam
6352 N Fairfield Ave, Chicago, IL 60659 (Physical)