Industry:Local Trucking Operator, Local Trucking Without Storage, Car Sales
Doing business as:Anker Trucking
Registration:Jul 26, 1979
Site:ankertrucking.com
Phone:(708) 895-4220, (708) 895-0338, (708) 895-8993 (Fax)
Addresses:Chicago Heights, IL 60411 (Physical)
19800 Burnham Ave, Chicago Heights, IL 60411
19790 Burnham Ave, Chicago Heights, IL 60411
State ID:51813413
Business type:Domestic Bca
Expiration:Perpetual
Members (3):Janet Anker (Secretary)
William Anker (President, Vice-President, Owner)
Bill Anker (President, inactive)
Agent:Todd M Van Baren
122 S Michigan Ave Ste 1220, Chicago, IL 60603 (Physical)
Categories:Auto Dealers - New Cars, Trucking Companies
421 N Hazel St, Danville, IL 61832
Industry:Ret Florist, Florists, Gift Shops, Other Direct Selling Establishments
Doing business as:Anker Florist
Site:ankerflorist.com
Phone:(217) 442-0226, (217) 442-0295, (217) 442-4887 (Fax), (800) 833-2094 (Free)
Description:Family owned and operated.
Members (2):Beverly J. Long (Partner)
Charles E. Long (Owner, Partner, inactive)
SIC:5963 - Direct Selling Establishments
Service area:Alvin, bismarck, catlin, danville, fairmount, fithian, georgetown, oakwood, tilton and westville
Categories:Balloons & Delivery, Candy & Confectionery Retail, Florists, Gift Shops, Wedding Equipment & Supplies
Open Hours:Mon-fri 8:30am-5:30pm; sat 9:00am-3:00pm
Specialties:Anniversaries, Birthdays, Dances, Family Weddings, Funerals, ...
In business since:1900
Brands:Fannie May, Teleflora
Products:Balloon Decorating, Balloons, Candies, Candleholders, Candles, ...
Additional:Say It With Flowers, Serving Danville for Over 100 Years
Company size:3
11495 N 5000E Rd, Manteno, IL 60950
Industry:General Crop Farm
Member:Karen Anker (Principal)
1866 Sheridan Rd, Highland Park, IL 60035
Industry:Social Services
Member:Wendy Anker (Principal)
16965 Vincennes Ave, South Holland, IL 60473
Industry:Whol Industrial Equipment
Registration:Sep 5, 2012
State ID:68699002
Business type:Domestic Bca
Expiration:Perpetual
Agent:Robert C. Griffin
849 W Fletcher St Apt Gr, Chicago, IL 60657 (Physical)
Registration:Sep 16, 2014
State ID:04985451
Business type:Domestic LLC
Expiration:Perpetual
Agent:Todd M. Van Baren
122 South Michigan Avenue 1220, Chicago, IL 60603 (Physical)
506 E Harding Ave, La Grange Pk, IL 60526
Status:Inactive
Industry:Whol Office Equipment Electrical Repair, Office Equipment, Data Processing Service
Doing business as:Anker Systems
Phone:(708) 352-4373
Description:Office Supplies and Stationery Stores
Member:Klaus Herzog (Owner, President, inactive)
SIC:5044 - Office Equipment
SIC6:737401 - Data Processing Service
Company size:4
Status:Inactive
Registration:Aug 13, 1986
State ID:54347561
Business type:Domestic Bca
Expiration:Perpetual
Agent:Donna Wangsness
648 Highview, Addison, IL 60101 (Physical)
Status:Inactive
Registration:Jul 6, 1983
State ID:53138918
Business type:Domestic Bca
Expiration:Perpetual
Agent:James E Molenaar
3546 Ridge Road, Lansing, IL 60438 (Physical)
1425 B Centre Cir Dr, Downers Grove, IL 60515
Status:Inactive
Registration:May 10, 1979
State ID:C0918669
Business type:Statement & Designation By Foreign Corporation
Agent:** Resigned On 06/05/1990
Status:Inactive
Registration:Jul 3, 1985
State ID:53902227
Business type:Domestic Bca
Expiration:Perpetual
Agent:Stephen H Loeb
120 W Madison St Suite 1108, Chicago, IL 60602 (Physical)
ANKER
(trademark)
Downers Grove, IL
Status:Inactive
Registration:Aug 21, 1978
State ID:73182907
Status:602 - Abandoned-failure to respond or late response
Status date:May 23, 1984
Illustration:Typeset: Word(s)/letter(s)/number(s)
Attorney:Arthur C. Chapman & Dan R. Roin
111 W. Monroe St., Chicago, IL 60603
Goods & Services:Cash registers
Owner:Anker Data Sales & Services, Inc, 1425B Centre Circle Dr., Downers Grove, IL 60515
Status:Inactive
Registration:Aug 21, 1978
State ID:73182908
Status:602 - Abandoned-failure to respond or late response
Status date:May 23, 1984
Illustration:Typeset: Word(s)/letter(s)/number(s)
Attorney:Arthur C. Chapman & Dan R. Roin
111 W. Monroe St., Chicago, IL 60603
Goods & Services:No claim is made to exclusive use of "usa" apart from the mark as shown in the drawing., Cash registers
Owner:Anker Data Sales & Services, Inc, 1425B Centre Circle Dr., Downers Grove, IL 60515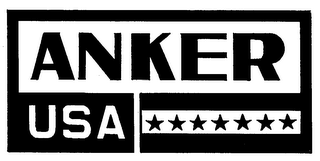 Status:Inactive
Registration:Aug 31, 1978
State ID:73184210
Status:602 - Abandoned-failure to respond or late response
Status date:May 23, 1984
Illustration:Drawing or design which also includes word(s)/ letter(s)/number(s)
Attorney:Arthur C. Chapman & Dan R. Roin
111 W. Monroe St., Chicago, IL 60603
Goods & Services:No claim is made to exclusive use of "usa" apart from the mark as shown in the drawing., Cash registers
Owner:Anker Data Sales & Services, Inc, 1425B Centre Circle Dr., Downers Grove, IL 60515