2048 W Highway 33, Rexburg, ID 83440
Industry:Car Sales
Phone:(208) 356-5110
550 S Broadway Ave, Ste 110, Boise, ID 83702
Categories:Health Clubs & Gyms
Phone:(208) 841-2311
5042 Pleasant View, Pocatello, ID 83202
Registration:Mar 12, 2001
State ID:D43468
Business type:Assumed Business Name
812 Main Ave N, Twin Falls, ID 83301
Registration:May 11, 2012
State ID:K1023
Business type:Partnership Authority (Gp)
Industry:Auto Body Repair/Painting, Nonclassifiable Establishments
Registration:Jun 22, 2006
Addresses:PO Box 1061, Hailey, ID 83333 (Physical)
503 N Main St, Hailey, ID 83333
State ID:W51936
Business type:Limited Liability Company
PO Box 1401, Mountain Home, ID 83647
Registration:Nov 20, 2002
State ID:D60132
Business type:Assumed Business Name
Registration:May 6, 2002
State ID:W19178
Business type:Limited Liability Company
Agent:Tina Ann Cutright
645 North 3100 East, Menan, ID 83434 (Physical)
7479 N Hampstead Ave, Garden City, ID 83714
Status:Inactive
Registration:Mar 2, 2006
Inactive since:Jun 8, 2010
State ID:W48085
Business type:Limited Liability Company
Agent:Kim Jacky
7479 N Hampstead Ave, Garden City, ID 83714 (Physical)
142 E 16Th St, Idaho Falls, ID 83404
Status:Inactive
Registration:Jul 21, 1997
Inactive since:Jul 23, 2002
State ID:D6528
Business type:Assumed Business Name
2048 W Highway 33, Rexburg, ID 83440
Status:Inactive
Industry:Ret Motorcycles Ret Misc Vehicles
Member:Gary Cartwright (Owner, inactive)
100 N Latah St, Boise, ID 83706
Status:Inactive
Industry:Nonclassifiable Establishments
Member:Amanda Kingen (Principal, inactive)
PO Box 307, Rupert, ID 83350
Status:Inactive
Registration:Aug 31, 2005
Inactive since:Dec 20, 2005
State ID:W42455
Business type:Limited Liability Company
Agent:David J Young
625 Fremont Ave, Rupert, ID 83350 (Physical)
Status:Inactive
Registration:Sep 13, 2007
State ID:77278685
Status:606 - Abandoned - no statement of use filed
Status date:Jan 26, 2009
Illustration:Drawing or design which also includes word(s)/ letter(s)/number(s)
Attorney:Grace Han Stanton
PERKINS COIE LLP
1201 3Rd Ave Fl 48, Seattle, WA 98101
Employee:Barbara Troffki Brown
Goods & Services:Color is not claimed as a feature of the mark., "health", The mark consists of the words "pure 1 health" inside a rectangle superimposed on an oval containing a starburst design., Toothpaste;...
Owner:Pure 1 Health, Llc, PO Box 855, Aberdeen, ID 83210
Meridian, ID · Fair Lawn, NJ
Status:Inactive
Registration:Sep 24, 2003
State ID:78304700
Status:710 - Cancelled - section 8
Status date:Dec 16, 2011
Illustration:Typeset: Word(s)/letter(s)/number(s)
Attorney:Sabrina J. Hudson
H. J. Heinz Company
PO Box 57, Pittsburgh, PA 15230
Employee:Geoffrey A Fosdick
Goods & Services:Sauces
Owners (2):Promark Brands Inc, 2541 North Stokesberry Place, Suite 100, Meridian, ID 83642
Lea & Perrins, Inc, 15-01 Pollitt Drive, Fair Lawn, NJ 07410
Status:Inactive
Registration:Mar 29, 2004
State ID:76583752
Reg. number:3019173
Status:710 - CANCELLED - SECTION 8
Status date:Sep 21, 2012
Illustration:3000
Attorney:Kim R. Pearson
Employee:Karen K Bush
Goods & Services:"PURE" and "ISLAND BLENDS", Coffee and coffee blends
Owner:Pure Health Solutions, Inc, 120 East Lake Street, Suite 401, Sandpoint, ID 83864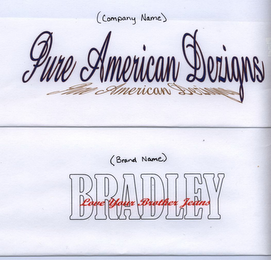 Status:Inactive
Registration:Feb 27, 2006
State ID:78824469
Status:602 - ABANDONED-FAILURE TO RESPOND OR LATE RESPONSE
Status date:Mar 21, 2007
Illustration:5000
Employee:Evelyn W Bradley
Goods & Services:The color(s) Red outline, Blue Fill, Gold Shadowing on "Pure American Dezigns" Black outline, white fill on bold capital letters "BRADLEY" then red lettering on inset words "Love Your Brother Jeans"...
Owner:Smith, Mindy J, PO Box 51983, Idaho Falls, ID 83405