29 W Camden Wyoming Ave, Camden-Wy, DE 19934
Industry:Business Services at Non-Commercial Site
Member:Matthew Talbot (Principal)
Registration:Oct 31, 1984
State ID:2047473
Business type:Corporation
Agent:Concord Assets Finance Corporation
1201 N Orange Street Suite 718, Wilmington, DE 19801 (Physical)
Registration:Mar 9, 2009
State ID:4663078
Business type:Limited Liability Company (Llc)
Agent:Jun Wan
124 Cobble Creek Curve, Newark, DE 19702 (Physical)
Registration:Dec 30, 1992
State ID:2322629
Business type:Corporation
Agent:The Company Corporation
2711 Centerville Rd Ste 400, Wilmington, DE 19808 (Physical)
Registration:Jan 31, 1989
State ID:2186055
Business type:Corporation
Agent:Resigned Agent Account
Registration:Feb 20, 1996
State ID:2596281
Business type:Corporation
Agent:Resigned Agent Account
Registration:Nov 20, 2014
State ID:5644155
Business type:Limited Liability Company (Llc)
Agent:Eric Chung
201 Gabor Drive, Newark, DE 19711 (Physical)
Registration:Oct 28, 2009
State ID:4747029
Business type:Limited Liability Company (Llc)
Agent:The Corporation Trust Company
Corporation Trust Center 1209 Orange St, Wilmington, DE 19801 (Physical)
Registration:Jul 16, 2002
State ID:3547749
Business type:Limited Liability Company (Llc)
Agent:Registered Agents, Ltd
1013 Centre Rd Ste 403-A, Wilmington, DE 19805 (Physical)
Registration:Jul 7, 1999
State ID:3065569
Business type:Corporation
Agent:The Company Corporation
2711 Centerville Rd Ste 400, Wilmington, DE 19808 (Physical)
Registration:May 12, 1999
State ID:3032269
Business type:Corporation
Agent:The Prentice-Hall Corporation System, Inc
2711 Centerville Road Suite 400, Wilmington, DE 19808 (Physical)
819 S Dupont Hwy, New Castle, DE 19720
Status:Inactive
Industry:Environmental Services, Services-Misc
Site:extraservices.co.uk
Description:Xtra Services is an Environmental Services company located in 819 S Dupont Hwy, New Castle, Delaware, United States.
Member:Anthony Micucio (Principal)
Status:Inactive
Registration:Oct 12, 1994
State ID:F00401985
Business type:Gen. Business - For Profit
Expiration:Perpetual
Agent:The Corporation Company
7733 Forsyth, Saint Louis, MO 63105 (Physical)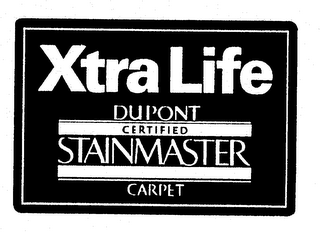 Status:Inactive
Registration:Mar 12, 1992
State ID:74254814
Reg. number:1731957
Status:710 - CANCELLED - SECTION 8
Status date:May 17, 1999
Illustration:3S17
Attorney:Mary E. Bowler
Employee:Cynthia Summerfield
Goods & Services:The certification mark, as used by carpet manufacturers authorized by the certifier, certifies that the goods with which the mark is associated meet the certifier's standards as to fiber content,...
Owner:E. I. Du Pont De Nemours And Company, 1007 Market Street, Wilmington, DE 19898
Status:Inactive
Registration:Apr 18, 2005
State ID:78976343
Status:606 - Abandoned - no statement of use filed
Status date:Aug 8, 2008
Illustration:Drawing or design which also includes word(s)/ letter(s)/number(s)
Attorney:Three Little Falls Centre
2801 Centerville Road, Wilmington, DE 19808
Employee:Christophe Buongiorno
Goods & Services:Color is not claimed as a feature of the mark., The mark consists of a triangular design with wavy lines and stippling, the bottom edge of the design is in the shape of a wave, with the literal...
Owner:Invista North America S.a.r.l, Three Little Falls Centre 2801 Centerville Road, Wilmington, DE 19808
Status:Inactive
Registration:Feb 13, 1991
State ID:74138712
Status:602 - Abandoned-failure to respond or late response
Status date:Jan 22, 1993
Illustration:Typeset: Word(s)/letter(s)/number(s)
Attorney:Shapton International Corporation
39 Winding Hill Drive, Hockessin, DE 19707
Employee:Eleanor Kikum Meltzer
Goods & Services:Golf club heads
Owner:Shapton International Corporation, 39 Winding Hill Drive, Hockessin, DE 19707
Status:Inactive
Registration:Mar 7, 1990
State ID:74035644
Reg. number:1625049
Status:710 - Cancelled - section 8
Status date:Dec 8, 2001
Illustration:Typeset: Word(s)/letter(s)/number(s)
Attorney:Shapton International Corporation
15 Garfield Way
Delaware Industrial Park, Newark, DE 19713
Goods & Services:Golf club heads, Extra touch control
Owner:Shapton International Corporation, 15 Garfield Way Delaware Industrial Park, Newark, DE 19713