Industry:Building Maintenance Services, Eating Place, Eating Place Building Maintenance Services
Doing business as:C2Enterprises
Registration:Apr 3, 2014
Phone:(310) 923-6707
Addresses:4221 Wilshire Blvd, Los Angeles, CA 90010
2320 S Bentley Ave, Los Angeles, CA 90064
2838 E Pico Blvd, Los Angeles, CA 90023
164 W Slauson Ave, Los Angeles, CA 90003
400 S Harvard Blvd, Los Angeles, CA 90020
164 W Lawson 3 Ave, Los Angeles, CA 90003
State ID:201409910381
Business type:Domestic
Members (2):Samantha Chung (Member, Manging Member)
Hae S. Chung (Partner)
Agent:Jason Beck
Categories:Bar & Grill Restaurants, Burger Restaurants, Family Restaurants, Mexican Restaurants, Southwestern Restaurants
1255 Treat Blvd, Ste 300, Walnut Creek, CA 94597
Categories:Homes & Residential Real Estate
Phone:(925) 363-4343
7693 Longard Rd, Livermore, CA 94551
Industry:Nonclassifiable Establishments
Registration:Feb 3, 2014
State ID:03643737
Business type:Articles of Incorporation
Member:Kurt Pfluger (President)
Campbell, CA · San Jose, CA
Industry:Engineering Services, Nonclassifiable Establishments
Registration:May 5, 2011
Addresses:750 Camden Ave, Campbell, CA 95008 (Physical)
163 Acacia St, San Jose, CA 95110
State ID:C3379470
Business type:Articles of Incorporation
Member:Craig N. Reid (President)
Agent:Craig N Reid
Campbell, CA 95008 (Physical)
158 Pizarro Ave, Novato, CA 94949
Industry:Business Services at Non-Commercial Site
Member:Helge M. Biernath (Chief Executive Officer)

384 Bel Marin Keys, Novato, CA 94949
Industry:Architecture & Planning
Site:c2egreen.com
Description:We believe that "conscious business" moves companies to refocus on purpose instead of profit. In theory, it underscores the importance of all company's interdependent "stakeholders": employees,...
Specialties:energy auditing, energy efficiency, water conservation, LEED, renewable energy, ...
Founded:2009
Company size:1-10 employees
110 Castilian Dr, Santa Barbara, CA 93117
Industry:Engineering Services
PO Box 3052, Redwood City, CA 94064
Registration:Jan 5, 2009
State ID:C3186033
Business type:Articles of Incorporation
Member:Peter Brown (President)
Agent:W P Kelley Sr
Sonora, CA 95370 (Physical)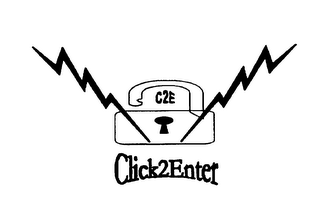 Registration:Apr 12, 1999
State ID:75681006
Reg. number:2445041
Status:800 - Registered and renewed
Status date:Apr 19, 2011
Illustration:Drawing or design which also includes word(s)/ letter(s)/number(s)
Employee:Rodney Dickinson
Goods & Services:"click to enter", Limited range, radio receivers coupled to door or gate actuators for controlling emergency access to buildings or controlled areas for use by individuals, business entities, the...
Owners (2):Click2Enter, Inc, PO Box 1532, Sonoma, CA 95476
Access Design Group, PO Box 140, Sonoma, CA 95476
Correspondent:Pete Sutsos
Click2Enter, Inc
18045 Brooks Avenue, Sonoma, CA 95476
Status:Inactive
Industry:New Product Development & Mfg
Registration:Jun 19, 2003
Phone:(949) 715-7750
Addresses:260 Newport Center Drive, Newport Beach, CA 92660 (Physical)
28 Sable Sands, Newport Beach, CA 92657
State ID:C2518195
Business type:Articles of Incorporation
Member:Craig David Carroll (President)
Status:Inactive
Industry:Real Estate Leasing/Consulting
Registration:Feb 26, 2003
Addresses:PO Box 4368, Walnut Creek, CA 94596 (Physical)
4022 Roland Dr, Concord, CA 94521
PO Box 6392, Concord, CA 94524
State ID:C2499425
Business type:Articles of Incorporation
Member:Steve B. Scott (President, inactive)
5029 Murchio Dr, Concord, CA 94521
Status:Inactive
Industry:Computer Systems Services
Registration:May 27, 2008
State ID:200814910002
Business type:Domestic
Member:Noel Bangalan (Managing Member, inactive)
12486 Bodega Rd, San Diego, CA 92128
Status:Inactive
Registration:Jun 21, 1982
State ID:C1115686
Business type:Articles of Incorporation
Member:Charlotte N. Moller (President, inactive)
Agent:Carl Moller
San Diego, CA 92128 (Physical)
Status:Inactive
Registration:Feb 26, 2003
Addresses:PO Box 4368, Walnut Creek, CA 94596 (Physical)
PO Box 6392, Concord, CA 94524
State ID:C2499425
Business type:Articles of Incorporation
Member:Steve B. Scott (President, inactive)

Status:Inactive
Registration:Jun 6, 2000
State ID:76063800
Status:602 - Abandoned-failure to respond or late response
Status date:Sep 8, 2001
Illustration:Typeset: Word(s)/letter(s)/number(s)
Attorney:Patricia L. Cotton
PILLSBURY MADISON & SUTRO LLP
1100 New York Avenue Nw Ninth Floor, Washington, DC 20005
Employee:Hellen Bryan Johnson
Goods & Services:Syndicating web content and transferring web commerce content to web-enabled phones, wireless modems and personal digital assistants
Owner:Livemind, Inc, 130 Dore Street, San Francisco, CA 94103
C2D
(trademark)
Mountain View, CA
Status:Inactive
Registration:Nov 7, 1991
State ID:74219820
Status:602 - Abandoned-failure to respond or late response
Status date:May 12, 1993
Illustration:Typeset: Word(s)/letter(s)/number(s)
Attorney:Elizabeth G. Gentry
MORRISON & FOERSTER
755 Page Mill Road, Palo Alto, CA 94304
Employee:Richa Friedman
Goods & Services:Transgenic living animals for laboratory use, C2d
Owner:Genpharm International, Inc, 2375 Garcia Avenue, Mountain View, CA 94043
Status:Inactive
Registration:Jul 12, 2000
State ID:76087565
Status:602 - Abandoned-failure to respond or late response
Status date:Aug 7, 2001
Illustration:Typeset: Word(s)/letter(s)/number(s)
Attorney:Maria Erlinda C. Sarno
PO Box 1023, Artesia, CA 90702
Employee:Glenn G Clark
Goods & Services:Billing and business management for telecommunication services, C 2 c x cess
Owner:Chu, Gene C, 1000 S. Fremont Ave., # 1229, Alhambra, CA 91803