Industry:General Auto Repair, Auto Repair
Registration:Jan 1, 1973
Site:activemember.com
Phone:(479) 636-6210
Addresses:219 E Chestnut St, Rogers, AR 72756
37 Brig Dean Rd, Rogers, AR 72756
Member:Clayton Gray (Owner)
Categories:Auto Repair & Service, Auto Services, Transmissions - Automobile, Radiators - Automotive, Brake Service, ...
Specialties:Domestic, Domestic Cars
In business since:1973
Products:Air Conditioning, Auto Repairs, Brakes, Braking Systems, Computerized Services, ...
Payment options:MasterCard, VISA
Additional:Serving N.W. Ark Since "1973
4706 Rockwood Bend, Van Buren, AR 72956
Industry:Electrician
Registration:1997
Phone:(479) 650-8828
Description:Owner operated. No subs. Cost is determined by the job. Additional charge for after hours service. No travel charges.
Member:Cary Thomas
Open Hours:By appointment
Features:Emergency Service
Licensed:Yes
Service area:Most of the Fort Smith area
Free estimates:Yes
121 N Commerce Ave, Russellville, AR 72801
Categories:Drug Stores & Pharmacies
Site:candddrugstore.com
Phone:(479) 968-2456, (479) 968-7914 (Fax)
In business since:1958
Products:Compounded Prescriptions, Veterinary Medications
Payment options:American Express, Visa
Open Hours:Mon-Sat
Additional:We Are Specialists in Compounding Unique, One of A Bird Medications for Human and Veterinary Use.
2302 Ouachita Rd, Stephens, AR 71764
Industry:Business Consulting Services, Daycare
Doing business as:C & D DISABILITY CONSULTANTS
Phone:(870) 836-3244
Member:Donna Roberson (Owner, Principal)
4190 Green 920 Rd, Paragould, AR 72450
Categories:Energy & Environment
Phone:(870) 239-0633
Products:Ecological Services, Environmental Conservation, Environmental Services, Land Conservation
2515 Highway 425, Pine Bluff, AR 71601
Industry:General Crop Farm
Members (2):Dawn Render (Partner)
Chad Render (Partner)
121 N. Commerce St., Russellville, AR
Registration:Apr 24, 1967
State ID:100085019
Business type:For Profit Corporation
Members (3):Jones/ Rose/ Lawton (Tax Preparer)
Roy Dean Walker (President)
Johnna Walker (Secretary)
Filled under act:Dom Bus Corp; 576 of 1965
707 S. River Rd, Hot Springs, AR 72941
Registration:Jun 18, 2009
State ID:800158162
Business type:Limited Liability Company
Members (2):Charles E. Geske (Incorporator/Organizer)
Paul Thrift (Tax Preparer)
Filled under act:Domestic LLC; 1003 of 1993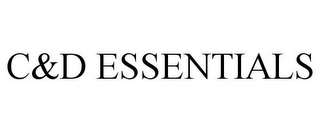 Registration:Jan 3, 2008
State ID:77363545
Reg. number:3467724
Status:702 - Section 8 & 15-accepted and acknowledged
Status date:Jul 31, 2014
Illustration:Drawing with word(s)/letter(s)/number(s) in Block form
Attorney:Marc A. Lieberstein
KILPATRICK TOWNSEND & STOCKTON LLP
1114 Avenue Of The Americas, New York, NY 10036
Employee:Wendy Beth Goodman
Goods & Services:Wallpaper; wallpaper in the nature of roomsize decorative adhesive wall coverings; non-textile wall coverings; wallcoverings, C and d essentials
Owner:Colour & Design, Inc, 10024 Maumelle Blvd., North Little Rock, AR 72113
2006 Marilyn Drive, Conway, AR 72032
Status:Inactive
Registration:Nov 27, 2006
State ID:800098073
Business type:For Profit Corporation
Members (3):Cynthia Harrell (Incorporator/Organizer)
Nancy Ambrose (Tax Preparer)
David Harrell (Vice-President)
Filled under act:Dom Bus Corp; 958 of 1987
315 North Seventy St.,, Fort Smith, AR 72901
Status:Inactive
Registration:Jun 11, 1986
State ID:100009073
Business type:For Profit Corporation
Member:Louis Jacks (President)
Agent:Ben T. Barry (I)
315 North Seventy St.,, Fort Smith, AR 72901 (Physical)
Filled under act:Dom Bus Corp; 576 of 1965
3209 Porter Drive, Paragould, AR 72450
Status:Inactive
Industry:General Crop Farm
Registration:Mar 4, 1992
State ID:100095216
Business type:For Profit Corporation
Members (3):Kathy Threlkeld (Vice-President)
Justin Threlkeld (Secretary)
Douglas Threlkeld (Tax Preparer, President, inactive)
Filled under act:Dom Bus Corp; 958 of 1987
Status:Inactive
Industry:Heavy Municipal Utilites Contractorcivil Engineers
Registration:Aug 13, 1991
Phone:(870) 239-0633
Addresses:405 Meriwether Dr., Paragould, AR 72450 (Physical)
4190 Greene 920 Rd, Paragould, AR 72450
State ID:100091471
Business type:For Profit Corporation
Members (3):Chris Donaldson (President)
Rick Clifft (Secretary, inactive)
R. C. Clifft (Secretary, inactive)
Agent:R.c. Clift (I)
405 Meriwether Dr., Paragould, AR 72450 (Physical)
Filled under act:Dom Bus Corp; 958 of 1987
PO Box 187, Plainview, AR 72857
Status:Inactive
Registration:Jun 12, 1973
State ID:100077159
Business type:For Profit Corporation
Member:Richard Parks (President)
Agent:Richard E. Parks
PO Box 187, Plainview, AR 72857 (Physical)
Filled under act:Dom Bus Corp; 576 of 1965
Status:Inactive
Registration:Jun 12, 1973
State ID:100078982
Business type:For Profit Corporation
Agent:No Agent Name
Filled under act:Dom Bus Corp; 576 of 1965
Status:Inactive
Registration:Apr 13, 1982
State ID:100009072
Business type:For Profit Corporation
Agent:Billy Joe Dilbeck
Filled under act:Dom Bus Corp; 576 of 1965